Photo: Colleen Hayes/? NBCUniversal, Inc.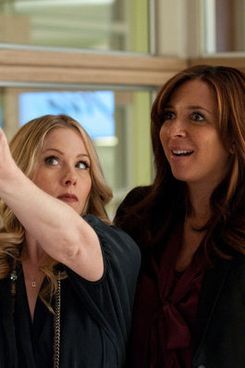 Oh, baby: NBC's fall season is already off to a better start than last year. Wednesday's sneak preview of new Peacock parenthood comedy Up All Night did very, very well in the ratings. The Will Arnett, Christina Applegate, and Maya Rudolph showcase drew just under 11 million viewers in the 10 p.m. slot and averaged an even more impressive 3.7 rating with adults under 50, per Nielsen. Up was first in its time slot, even beating the season finale of CBS's Big Brother (shocker!). Now, here's the caveat: This was a special airing behind the season finale of America's Got Talent, which in its 9:30 p.m. half-hour averaged over 16 million viewers. But while a lot of older folks didn't stick around for Up, there's evidence the younger crowd NBC targets did. AGT averaged a 4.1 in its last half-hour, which means Up held on to about 90 percent of its demo lead-in, something that's very impressive for a first-year comedy. Up was also up 54 percent from what the first half-hour of short-lived Jimmy Smits drama Outlaw earned when it had a post-AGT preview last year. The news wasn't so good for NBC's other debut last night, however.

The Hank Azaria office comedy Free Agents pretty much had viewers rushing to change the channel. It averaged a 2.1 in the under 50 demo, collapsing 40 percent from its Up lead-in. Is this a disaster? Well, it's not good, and certainly indicates Up and Agents might not be compatible. In any case, both shows still have a major challenge ahead of them, since they're scheduled to shift to the 8 to 9 p.m. hour on Wednesdays next week, facing Survivor and ABC's successful comedy The Middle. But NBC can at least be happy that folks checked out Up; we'll have to wait a few weeks to see if they liked what they saw. Elsewhere on the Nielsen front, CBS's Survivor was down 15 percent from its fall premiere in 2010, while Big Brother capped a successful summer season with ratings on par with last summer's sign-off. Over at the CW, not even Snooki could convince folks to watch the network's dreadful new unscripted series H8R: It averaged just 1.3 million viewers, low even by C-Dub standards (though, sadly, the net's best reality debut in two years). H8R's soft open helped push America's Next Top Model down nearly 30 percent in adults 18 to 34 versus its fall premiere last year (when it aired at 8 p.m.). Expect it to shift back to 8 p.m. by next month.