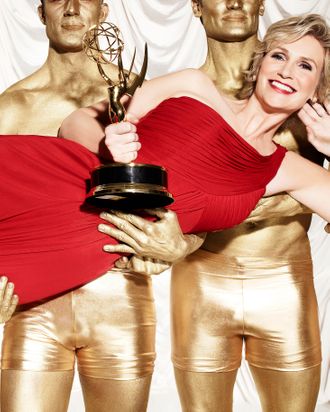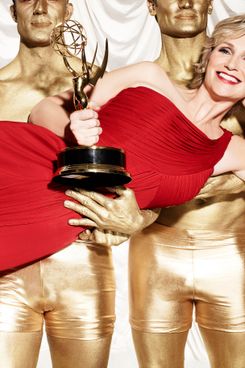 Welcome to Vulture's live-blog of the 2011 Primetime Emmys! We'll be covering the highlights, lowlights, snubs, scares, and everything in between, all night long. Pour a drink, gather your snack companions, and join us for all the dramas you love, the comedies you quote, and the mini-series almost no one has seen. We'll be blogging right here, tweeting the show in general, and our own Joe Adalian will be tweeting from inside the ceremony at @tvmojoe. Take it away, Jane Lynch!
8:00 p.m. Here we go. Hm, Leonard Nimoy as the president of television.
8:03 p.m.: Mythbusters and Ron Swanson in one number? More, please.
8:05 p.m.: LANDRY! God, I miss Friday night Lights. But I could have done without that weird Verizon placement.
8:06 p.m.: Lynch looks fantastic in that silver dress, and that opening number was really cute. But what did Steve Carell just whisper?
8:07 p.m.: "Jon Hamm and I are at finger pistols."
8:09 p.m. Okay, Emmy tones are: Zachary Levi from Chuck, Cobie Smulders from How I Met Your Mother, Taraji P. Henson from the upcoming Person of Interest, Kate Flannery from The Office, Wilmer Valderamma from the upcoming Awake, and Joel McHale from Community.
8:11 p.m.: Jimmy Kimmel and Jimmy Fallon are a little hard to hear, but at least they wrestled.
8:14 p.m.: And the best supporting actress in a comedy is….Julie Bowen! That's a lot of clavicle, lady. "I'm half in love with all of our writers," though one wonders why she's not whole in love with them? Short, emotional, but not particularly memorable speech from Bowen.
8:16 p.m.: What is on Julianna Marguiles's dress? She looks like a dalek.
8:18 p.m.: And the best supporting actor in a comedy is… Ty Burell. Go Dunphys! Cute that he and his TV wife both won. Way to bring a tear to all our eyes, Ty Burell! This is why you write a speech, kids: Emotional, memorable, honest, but also totally funny.
8:21 p.m. Daleks are the Orkos of the Doctor Who universe, for the Google-lazy among you.
8:25 p.m.: "If I didn't have to be here, I'd be home eating a tub of turkey meatballs in the dark." For some reason, the fact that they're turkey meatballs and not just regular meatballs makes it funnier.
8:26 p.m. Ricky Gervais, fun enough.
8:28 p.m.: And the best director for a comedy is… Michael Allen Spiller for Modern Family. Was that a "DP" joke from the announcer? Picture my eyebrows being raised really, really high right now.
8:29 p.m.: That "fix that step" line is a recurring joke on Modern Family, fyi.
8:29 p.m.: Zooey Deschanel, the world's pinkiest, poufiest human
8:30 p.m.: And outstanding achievement in comedy writing goes to… Steven Levitan and Jeffrey Richman for Modern Family. That's four (!!) Modern Fam wins in a row to start the show off.
8:32 p.m.: Those were two perfect moments of comic timing from Steven Levitan's wife. Get that woman a show.
8:38 p.m.: "Welcome back to the Modern Family awards." Heee.
8:39 p.m.: Jimmy Fallon standing up for Charlie Sheen. Those sideburns are atrocious, and that hair is no good. But Sheen actually looks okay? And I guess it's nice to wish everyone on Two and a Half Men well, but it's hard to still care.
8:41 p.m.: And the winner for best actor in a comedy is…Jim Parsons for Big Bang Theory. Awww, Louis CK brought Pamela Adlon as his date.
8:43 p.m.: Are you guys hearing a weird vuvuzela sound?
8:44 p.m.: All the comedy actresses look so cute joining each other on stage! Also hot damn, Martha Plimpton. (But what the hell are you wearing, Laura Linney?)
8:46 p.m.: And the best actress in a comedy is…Melissa McCarthy for Mike and Molly. This beauty pageant bit is fantastic, and McCarthy was so great in Bridesmaids… but Mike and Molly is the worst.
8:47 p.m.: Woah, that was some accidental bitchface from Katie Holmes.
8:49 p.m.: So far so good, no?
8:53 p.m.: Don't forget to hit refresh and to leave comments about what you're drinking. I am drinking wine!
8:55 p.m.: This bit with all the people walking into Dunder Mifflin is pretty good. Also I totally believe that Creed has a crystal meth dealer, and did everyone catch a glimpse of how tiny Cee Lo's hands are? "I was wondering where the half man was" is actually a really good line. These bits are hitting, but the Emmytones are not.
8:59 p.m.: Lynch changed her dress, but it's a very similar cut? Seems to defeat the purpose.
9:00 p.m.: And the winner for reality contest show is…The Amazing Race. Looks like Top Chef's win last year was a delicious, delicious fluke.
9:02 p.m.: Who's doing the snarky voice overs? Not John Hodgeman, that's for sure.
9:04 p.m.: Time to count the number of female names!
9:05 p.m.: Best late night writing goes to….The Daily Show. More on-stage wrestling.
9:12 p.m.: Not sure we need to stop the show completely for a Lonely Island performance? And it's weird to have Ed Helms and John Stamos stand in?
9:15 p.m.: Lea Michele, making on-the-fly corrections. At least the vuvuzela/misery kazoo seems to have stopped.
9:16 p.m.: Best comedy directing goes to Don Roy King for Saturday Night Live. Spoke too soon about the vuvuze.
9:18 p.m.: Outstanding music or variety series goes to…The Daily Show, for the ninth year in a row. Nice faux-grouchy clap for Jimmy Fallon.
9:19 p.m.: Maybe not the funniest speech from Jon Stewart? I think we've officially hit the show's first lull. Say no to pointless musical numbers, awards-show producers.
9:25 p.m.: Wow, this Emmytones thing is starting to bum me out. Sigh. Drama time.
9:28 p.m.: Outstanding writing for a drama series goes to…Jason Katims for Friday Night Lights! AH! CLEAR EYES FULL HEARTS!
9:30 p.m.: Friday Night Lights getting this Emmy is bringing a tear to my eye. Sort of wanted him to say more about Coach and Tami, but okay.
9:31 p.m.: And the best supporting actress in a drama goes to…Margo Martindale for Justified. So, so deserved. Martindale's Mags was the best villain on TV in ages. Yikes on that staircase, though.
9:32 p.m.: Helllooooo, Timothy Olyphant…
9:33 p.m.: "I love you Graham, even though you killed me." Well, spoiler on that, but still go back and watch this season of Justified if you haven't seen it.
9:37 p.m.: The everyone-on-stage beauty pageant segment for lead comedy actress The brainchild of Poehler and Plimpton, according to Poehler's rep. It was Poehler's idea to do the goofy glasses a few years ago, too. It's almost like she's a brilliant comedy mind, you guys.
9:39 p.m.: Outstanding directing for a drama series goes to…Martin Scorcese for Boardwalk Empire. Did the VO guy just pronounce "Buscemi" as "boo-SHE-mee"?
9:41 p.m.: How can brilliant people write and deliver such boring speeches?
9:44 p.m.: Supporting actor in a drama series goes to…Peter Dinklage for Game of Thrones. Wait, Andre Braugher is married in real life to his wife from Homicide? Is there nothing that show can't do?
9:45 p.m.: Peter Dinklage just thanked his dog-sitter, which is pretty baller, but he mispronounced "Walton" as in Walton Goggins, who is freaking amazing on Justified.
9:50 p.m.: That's the second Spanx joke of the night.
9:52 p.m.: Don't exert yourself clapping, Zooey Deschanel.
9:53 p.m.: Lead actress in a drama series goes to…Julianna Margulies for The Good Wife. Good job memorizing everyone's name, Julianna.
9:56 p.m.: Really? We're clapping for a new incarnation of Charlie's Angels?
9:57 p.m.: Outstanding lead actor on a drama goes to…Kyle Chandler for Friday Night Lights! AAAAAH! Wish Connie Britton had a matching one, but still. And aww, delivered by Lyla Garrity herself. So, look, given: I am extremely happy for Kyle Chandler. But Coach gives some of TV's best speeches — and this acceptance speech just didn't hold up. Attention, actors: If your character has a go-to line, go ahead and use that in your acceptance speech.
10:03 p.m.: Are you more happy that Kyle Chandler won, or more sad that Jon Hamm lost?
10:04 p.m.: Too bad they can't just pull the plug on the Emmytones. Ah, here we go: Movies and miniseries. Everyone's least favorite time of the show.
10:07 p.m.: The cast of Entourage, turning Jane Lynch into a lesbian and eschewing bowties with tuxedos.
10:08 p.m.: Outstanding writing for a miniseries goes to…Julian Fellowes, for Downton Abbey. This is like, Vulture's wishlist coming true. But did he just get played off with The X-Files theme song?
10:10 p.m.: Best supporting actress in a movie or miniseries goes to…Maggie Smith for Downton Abbey, who isn't there.
10:16 p.m.: Lots of short dresses this year. Also, Jane Lynch is a full foot taller than Paula Abdul.
10:17 p.m.: Don't chew gum, Will Arnett. This banter with Amy Poehler and Melissa McCarthy is pretty terrific, though.
10:18 p.m.: Best lead actor in a movie or miniseries goes to…Barry Pepper for The Kennedys. Wow! The Kennedys?! Idris Elba was robbed.
10:19 p.m.: Best director for a movie or miniseries is…Brian Percival for Downton Abbey. Not sure what's going on with Julian Fellowes's wife's headdress, but that does not diminish my enthusiasm for Downton Abbey, or for a show called Downtown Abby, about a girl named Abby who lives downtown.
10:22 p.m.: "Hallelujah" is on the artistic ban list due to overuse. Sorry, Emmys.
10:24 p.m.: If you're going to shamelessly use "Hallelujah," can't you at least have a decent cover? This schmaltz version sounds like a Celine Dion castoff. The point is not to be as big and embellished as possible.
10:31 p.m.: That was the Canadian Tenors, apparently. I googled Il Divo for nothing.
10:33 p.m.: Best supporting actor in a movie or miniseries goes to…Guy Pearce for Mildred Pierce. Be more charming and adorable, Guy. Just kidding, you can't.
10:35 p.m.: Who blue-sparkled it better: Claire Danes or Amy Poehler?
10:36 p.m.: Lead actress in a miniseries or movie goes to…Kate Winslet for Mildred Pierce. She looks so excited! Is an Emmy a let-down after an Oscar, or is it still fun?
10:43 p.m.: And that's the second Lion King joke of the night (or the third, if you count Jon Stewart's callback). Weird.
10:44 p.m.: Best miniseries or movie is…Downton Abbey. It's a little weird to hear all the Downton people thank NBC, since it didn't air on NBC here, but NBC Universal produced it.
10:46 p.m.: Best drama goes to…Mad Men! Well, well deserved.
10:48 p.m.: Did the women of Mad Men all agree to a matching color palate? Either way, approve. But again, sort of a let-down of an acceptance speech.
10:53 p.m.: I like Kyle Chandler's face of skepticism at Gwyneth Paltrow's dress. I share those sentiments exactly, Coach.
10:54 p.m.: And the best comedy is…Modern Family. That's two in a row for Fam, not to mention a crazypants night for the show in general, though it's hard to to feel like Parks and Rec got robbed.
10:57 p.m.: We all spotted that Steve Levitan joke coming a mile away, no?
10:58p.m.: Aaaaaand we're out. Lynch was solid, even if she didn't have all that much to do, and thanks to a little absenteeism, the miniseries portion of the events zoomed right by. The big takeaway for the night seems to be that Modern Family has now moved from a show that's pretty good and enjoyable to a show that's poised for some serious backlash. And also that Friday Night Lights finally finally finally got some of the recognition it deserved. Overall takes, ladies and germs?