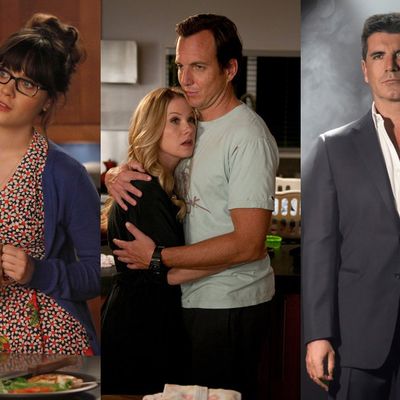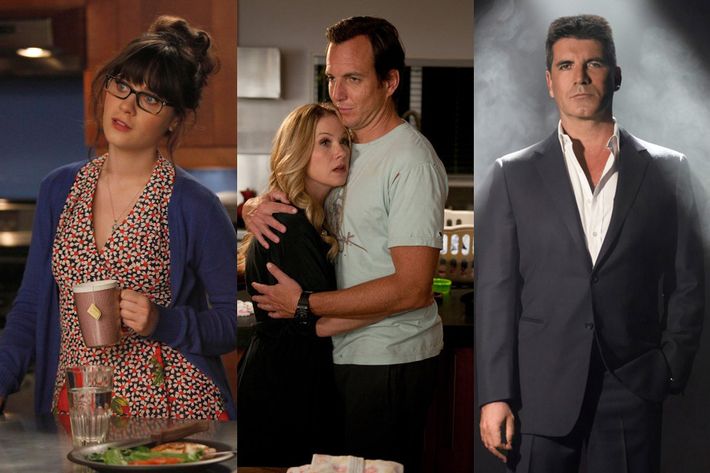 We're only a week into the new TV season, but it's not too soon to start making snap judgments about which new shows look like hits, and which look like they're not long for the airwaves. Forecasting success from a week or two of numbers can be tricky, as viewers sometimes check out early episodes of new shows and then bail. But the fact is, while networks always like to preach patience, sometimes viewers' Nielsen verdicts are so undeniable that attention must be paid (this is why Lone Star and My Generation were pulled within days of their 2010 premieres). Here's what Vulture has learned so far about the 2011-12 TV season:
— Up All Night is doing surprisingly well and will almost certainly be picked up for more episodes. Last week's premiere behind America's Got Talent was impressive, but the show's big test came this week when it debuted in its regular Wednesday time slot opposite monstrous competition: The X Factor, The Middle and Survivor. Not only did the show hold up, but it also actually finished No. 2 in some key demo groups, such as women under 35. It also did better in adults 18-49 than several established 8 p.m. NBC series averaged last season, including Community and Chuck. There's already speculation NBC might shift Up to Thursdays at some point, but there's good reason to scuttle that plan: 8 p.m. comedy anchors are hard to come by, and NBC might want to try to build a new night of comedy on Wednesdays. Other shows off to encouraging starts: ABC's Revenge and CBS's Unforgettable.
— America is ready for indie stars headlining network comedies. While we're not prepared just yet to declare New Girl or 2 Broke Girls smash hits, the fact that so many ordinary Americans under 50 took the time to check out series starring such alternative darlings as Zooey Deschanel and Kat Dennings indicates that, at the very least, we're a nation ready for unconventional sitcom leads. This would be a good time for Brooklyn hipster stand-up comics out there to start bugging their agents about TV work. Sure, you'll probably have to dilute your edgy comedy, but you'll get to keep your trademark haircut and possibly your speech patterns!
— Also: Remember when everyone was pronouncing the death of comedy a few seasons ago? This week's debuts, plus the massive season three debut of Modern Family, boffo numbers for The Big Bang Theory and solid returns for The Middle and Raising Hope means we can declare the sitcom sufficiently resurrected. If only the trend could touch NBC's Community and Parks and Recreation, both of which stumbled out of the gate Thursday with tune-in of around 4 million viewers.
— Free Agents and H8R are already dead, even if no decisions about their fates have been made. The NBC comedy dropped dramatically from Up All Night both times it aired; NBC will pull the plug sooner rather than later. As for H8R, an episode of Dora the Explorer on Nick Jr. tied it in viewers 18-34 this week. To be fair, maybe the babysitter/stoner demo is larger than we thought, but there's no denying it says something when adults would rather watch a kiddie cartoon than a Mario Lopez reality show. CW could easily flip H8R and its lead-out, America's Next Top Model, in order to limit the damage H8R does to Model. Longer term, it's hard to see why the CW would give this show more time. Also in trouble: The Playboy Club, which opened very weakly. However, NBC has lots of problems and may want to be a little patient with this show, perhaps even trying it on another night.
— CBS is the Benjamin Button of broadcast networks — its shows seem to get more virile with age. How I Met Your Mother, NCIS and NCIS: LA all premiered to bigger numbers this fall than in 2010; the first two have been on the air for at least six seasons. And while Two and a Half Men had an unprecedented "marketing" campaign behind it (thanks, Charlie!), it's still astounding that a series so aged could attract such a massive audience, even if much of the extra tune-in was likely due to rubberneckers who will likely disappear in the next few weeks,
— Some key veteran series are off to rocky starts, including two of NBC's biggest tentpoles. Thanks to a very weak lead-in from Harry's Law (a show that seems destined to move back to Mondays or to Fridays or off the air altogether), Law & Order: SVU finished third in its 10 p.m. Wednesday slot and earned its lowest premiere ratings ever. Tuesday's The Biggest Loser also tanked, earning its least-seen premiere yet. Both shows had introduced major cast changes, but worse, both had been overexposed by past NBC regimes, which used them to plug holes throughout its schedule. The good news is, both series could easily bounce back once viewers check out the new competition. NBC also has to be thrilled with how well The Office held up Thursday, giving the network at least one successful anchor on the very important night.
— Over at ABC, meanwhile, the network can't be happy with the 25%-plus declines for Dancing with the Stars. The show still has a big overall audience, but its average ratings for adults age 18-49 have fallen from huge to simply "big." That's a tough pill for ABC to swallow, since it needs DWTS as strong as possible in order to help launch the dozen or so new shows it plans to roll out this season. The good news is that DWTS could grow as the competition heats up; what's more, the right casting means the show can easily rebound in the spring. Meanwhile, Fox has to be bummed that Glee dropped by double digits with its decline and actually drew a smaller audience than lead-out New Girl. That said, the show is still strong overall (particularly for an 8 p.m. series) and is providing a great platform to launch Deschanel's half-hour.
— Simon Cowell is not as big of a star as he thinks he is. Or, at the very least, he's not enough of a celeb to guarantee a big tune-in. There's no getting around the fact that most industry insiders expected much bigger things from The X Factor, which averaged about 12.5 million viewers over four hours this week — that's about half the tune-in for American Idol, with fewer young adult viewers than watched the debut of The Voice. The good news for Fox is that viewers don't seem to be rejecting the show altogether: Night two of its two-night premiere held on to almost all of the debut audience. What's more, if X can hold on to this audience in the weeks ahead, Fox will still have a very successful series on its hand, one that gives it a solid anchor on two nights of the week. The downside: Thanks in part to Mr. Cowell's big salary, and lavish production costs, the profitability for X may be severely limited.
One mini-lesson related to this: Brand names don't always translate into ratings. Pre-season tracking showed Charlie's Angels had the highest audience awareness levels of any new show this season, and yet Thursday's premiere barely managed a 2 rating with viewers under 50. The iconic brand at the center of The Playboy Club didn't prevent the NBC show from falling flat in its premiere. And two seasons in, a reboot of the TV classic Hawaii Five-0 remains nothing more than a modest performer for CBS. By contrast, ABC's Revenge has no stars and a generic name, yet it attracted bigger under-50 tune-in than both Angels and Five-0.