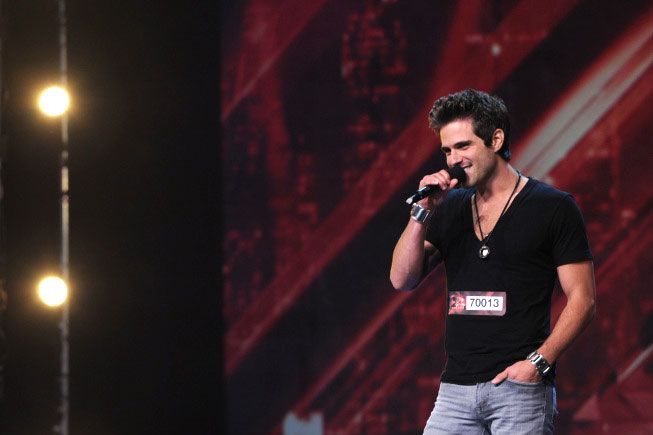 It's the last night of auditions for The X Factor! And they wrap it up with a two-hour extravaganza that's 40 percent montages of things that have happened in the last three shows, 40 percent slow motion shots of Nicole Scherzinger getting out of a helicopter, and 20 percent new people yelling at you. Seitan has a higher meat content than tonight's X Factor. You know, I was eager to recap this show because I've rarely missed an episode of American Idol. But two weeks in, it dawns on me that I've also never watched an episode of American Idol in real time. Have you tried? You seriously almost can't. The X Factor is no less a challenge. Without the power of fast forward, I feel like I'm serving some kind of jazzy jury duty.
If you didn't know who The X Factor's judges were, I'm not kidding when I tell you they are introduced seven more times tonight. They are:
- L.A. Reid, who is awfully imperious for a man who was married to Pebbles
- Nicole Scherzinger, whose Pussycat Dolls did an English-language version of "Jai Ho" from Slumdog Millionaire, and apparently "Jai Ho" in English is pronounced "Jay Ho," which makes me laugh to this day
- Paula Abdul, who seems much happier and more emotionally put-together than ever and it is super fucking boring
- Simon Cowell. Let's address Simon Cowell's hair. You can't help but to look at him and think: Oh, someone should consult on this guy's look. And then you realize he is the zillionare creator of the most popular talent show on the planet, so he has, at the very least, met a barber. What I'm saying is that we are looking at the optimal hairstyle for what is apparently a perfectly mason-jar-shaped head.
If you think I wasted a lot of time and space getting to the auditioners, so did the show.
It starts with young Brian Bradley, who says, "If you give me five years, I'll probably be better than Jay-Z," which makes you wonder why he's doing this now. But never mind that: His original rap composition "Stop Looking at My Mom" wins over the judges, gets the crowd on its feet, is already trending on Twitter, and has probably made his relationship with his stepdad permanently awkward. He also wears some stylish glasses which a close-up reveals are Real-D 3-D glasses with the lenses popped out.
Aaron Surgeon, who looks like Keenan Ivory Wayans playing Jermaine Stewart, sings Aerosmith's "I Don't Want to Miss a Thing." Aaron, oh Aaron. White people have stolen the best of black people's music for the last hundred years; please help yourself to a better song of ours. Whatever — he gets through.
Which brings us to our first obviously achingly lonely auditioner of the evening, 43-year-old Andy Silikovitz. He is there with his mother, he has a beard that makes him what we will call a fireface, and he mentions several times that he has never kissed a girl. He sings Mariah Carey's "Hero," and it sounds exactly like you think it will. The judges make a big to-do about what a great guy he is and how much they admire him, which I hope makes them feel less ghoulish about setting him out into the world to be a mocked on Morning Zoos for the next week. Chin up, Andy Silikovitz.
There is an overall Britishness to The X Factor. It's in the way Steve Jones calls the city "HOOSTON," and in the montages set to such U.S. chart non-starters as Chesney Hawkes "The One and Only" and D:Ream's "Things Can Only Get Better." It is possible that I'm just mentioning this so you'll know I know those songs.
The X Factor also suffers from a shortage of people in the prime 18 to 24 singing-competition-show age range, since they now have literally hundreds of singing competition show options from which to choose. The real standouts are going to be the very young and the very old, I suspect.
In the very young department, we meet Ausem (short for Austin and Emma, you guys!), a boy-girl pair of drama kids who make me wonder what it must be like to be a theater boy in 2011 when the collective jig is up and you don't have to pretend to be straight anymore. Emma says, "We know that if we could someday be at the Grammys and be up against Lady Gaga and win, then we'd know we were on top." Yes, Emma, that would probably be a good way of knowing. They drama-club the living shit out of Christina Perri's "Jar of Hearts," and after much heavily produced hemming and hawing, the judges let them through.
I'm going to skim a few auditioners, because "Jar of Hearts" saps my chi:
- Tora Woloshin, delightful, fixes cars, has a tattoo that looks like the side of a van in 1978. IN!
- Jor-El Garcia, personal assistant, gay, bought his personality lightly used in 1992. OUT!
- Brennin Hunt, worries that his handsomeness will hurt his chances, makes me root against him ferociously. IN.
- Leroy Hall, 59, looks 39, has the lyrics-to–"Lean On Me" remembering skills of someone who is 99. IN ANYWAY!
- Nick Dean, 14, handsome, nonthreatening, sings an original song. IN! WILL WIN THE ENTIRE THING PROBABLY!
Last and maybe least, there is Jazzlyn Little, who overcomes her shyness kind of quickly and brings the crowd to their feet. Simon predicts she'll be a world star. "World star," says Steve Jones, "Wow. World star." As though repeating it enough times will make us think it's a thing people say.
It feels strange to say AT LAST THAT'S OVER about something that just started, but AT LAST THAT'S OVER. Next week: boot camp! Fatigues and push-ups until they vomit! See you there.