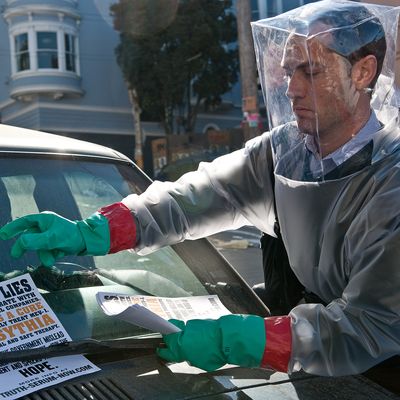 Photo: Claudette Barius/?2011 Warner Bros. Entertainment Inc.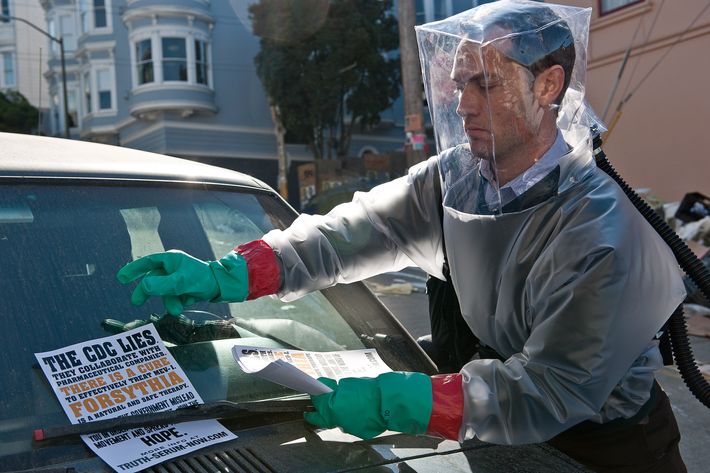 This Weekend's Winners: Steven Soderbergh's Contagion with $23 million; The Help $8.7 million.
This Weekend's Losers: Warrior ($5.6 million); Bucky Larson: Born to Be a Star ($1.45 million), and Creature, $331,000 — that's right, we said "thousand," as in, the fifth lowest-grossing opening on record.
How It All Went Down: The weekend after Labor Day is never pretty, but even by those standards, this was dispiriting.
The one good bit of news was that Contagion seems highly infectious, at least among grown-ups: Attendance was evenly split between between the sexes, with 81 percent age 25 and up.
The bad news is, well, everything else. The Help posted its steepest drop yet. Despite its substantial heart and ultimately redemptive story, Lionsgate's Warrior wound up attended by well less than half that of The Fighter, and a sausage party at that: Fully two thirds of its audience was male, and slightly more than half of them were under 25.
Finally, the real horror show was not the plunge in attendance for horror movies already in release, like Shark Night 3D (down 58 percent) or Apollo 18 (down 67 percent), but the near-empty theaters playing Bucky Larson: Born to Be a Star and Creature: As Box Office Mojo noted mournfully, an average of eight people saw each screening of Bucky Larson, while fewer than six people per theater sat through Creature. In fact, we suspect that linking to this clip from Creature, we may have effectively doubled the audience of the entire picture. As you can see, "Terror may have teeth," but it certainly doesn't have legs.