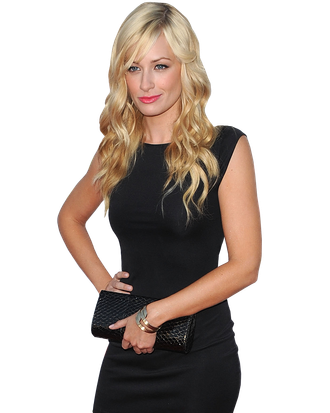 Before she landed the role of the prissy, formerly privileged Caroline on 2 Broke Girls, Beth Behrs's claim to fame was hanging with Kathie Lee Gifford. But all that changed after the debut of CBS's hipster-hating comedy from producer Michael Patrick King (Sex and the City, Will & Grace), which also co-stars Kat Dennings. It hit the ratings motherload, landing a staggering 19.1 million viewers after a Two and a Half Men lead-in. (Its week-two ratings fell by about eight million, so time will tell.) Vulture phoned Behrs to grill her on her humble beginnings, as well as the likelihood of her onscreen odd couple actually coupling.
Everyone jokes about how Kathy Lee and Hoda are drunk on wine and cocktails during that hour. You tell me: You made a movie, Serial Buddies, with Kathie Lee Gifford. Was she was drunk the whole time?
NO! [Outraged laughter.] Not at all! She was amazingly kind. I have an awesome scene with her. I play a sorority girl, and we bring her in to talk about missing children. But Kathie Lee is, like, drinking a pink martini during it. It's hilarious. She played it well, but she definitely wasn't drunk.

Do you and your co-star Kat Dennings have Kathie Lee and Hoda–esque chemistry off-screen?
I'll be honest with you: From the moment Kat flew in [for a read], we had chemistry. We had a two or three month break before we shot the pilot, and I talked to her — if not every day — every other day. Even on hiatus, we still talk all the time. It feels like I've known her, like, my whole life.

Which is interesting, because in addition to the Laverne & Shirley comparisons, Vulture has wondered if you're destined to become an old lesbian couple.
Seriously? That's kind of amazing. I don't know where the series is going, because the writers are very secretive; we don't see the script until the table read. But we kind of like are like an old married couple. That's true.

What's with all these cool comedic girls on TV all of a sudden?
Women have been funny for years. I think the business goes in certain spurts. Like it was the doctor thing before with Grey's Anatomy.

But women haven't had such blunt vagina jokes before!
When I first read the script, I was laughing out loud. One of those things where you sit by yourself and start cracking up. How rare is that? I'm a big fan of Bridesmaids, and I'm proud that we're pushing boundaries [too]. Comedy always pushes some buttons, because it wouldn't be comedy if it didn't.

2 Broke Girls likes to makes fun of the Williamsburg hipster scene. Did you ever hang out there for research?
I've never been to Williamsburg, but I've been to Park Slope. So I can kind of get a sense? And I heard that hipster scene in the east side of L.A. is sorta similar? The first place I'm going to in New York when I visit in November or December is Williamsburg.

You don't worry about someone throwing a PBR at you?
My God! Not until now.