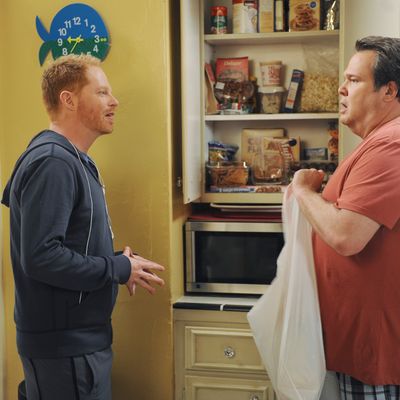 Photo: Richard Foreman/? 2011 American Broadcasting Companies, Inc. All rights reserved.
David Cross is having a banner week. It was announced that he and the rest of the Arrested Development cast will be returning to TV for eight new episodes and a possible movie, and just last night, Cross began a story arc in another documentary-style sitcom about the inner workings of a wacky family, complete with plenty of double entendres and long-running jokes. If Modern Family is more network mainstay than cult classic, here's hoping a bit of Cross's edginess will cut through some of the show's more sentimental tendencies. Time will tell, but Teachable Moments seem less likely to arise in the presence of the man who played TV's greatest never-nude.

Ty Burrell is killing it this season — he can create funny little moments out of the most throwaway of lines, like when Phil greets Claire with a "hey, gurl," all jokey and charming at once. And Julie Bowen, well, she's certainly in a groove doing her harried-housewife-on-the-verge-of-a-nervous-breakdown thing. But maybe some fresh blood will break her out of her routine. David Cross, as the gleefully obnoxious head of the city's traffic committee, has the potential to be a great foil for both. Last night was a promising introduction, as Claire does battle with Cross's petulant bureaucrat, the type who's more concerned with what kind of cake he's eating than he is in hearing out Claire's request. She gets off to a shaky start, but the Dunphy troops rally in time to help — Haley and Alex show up with extra signatures while Luke and Phil bring a specially made video featuring Phil's alter ego, loverboy Clive Bixby, this time doing his PSA best ("STOP the madness"). But does the Dunphy's Brady Bunch–style teamwork actually make an impact? The traffic committee seems decidedly unimpressed, with Cross's character spitting out the much-discussed cake in disdain. It appears the battle has just begun, and we look forward to watching the Dunphys fight City Hall — one bald-headed, bespectacled jerkoff in particular.