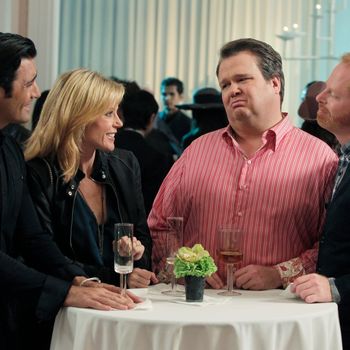 Photo: Peter "Hopper" Stone/? 2011 American Broadcasting Companies, Inc. All rights reserved.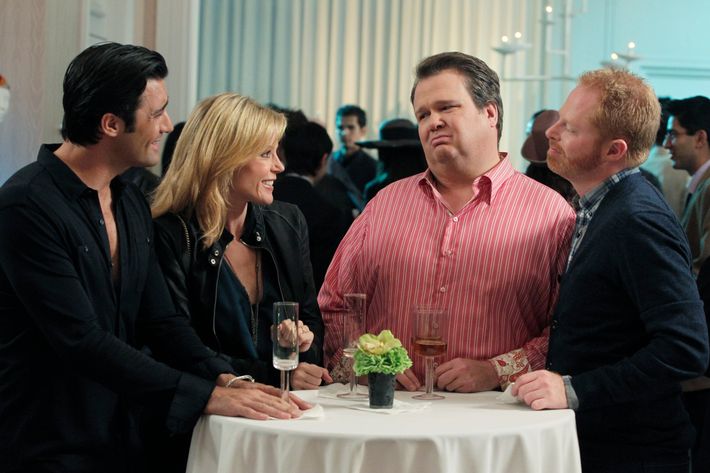 Last night's episode of Modern Family featured a gorgeous, sexually alluring creature with an exotic accent, dark shiny hair, and a bodacious physique — and hallelujah, for once it wasn't Gloria! Even better, it's Claire who gets to do the objectifying as Gilles Marini (best known for really stretching his acting muscles as the Naked Guy from the Sex and the City movie) plays a sexually ambiguous hunk who brings out Claire's inner Samantha Jones. And whenever Modern Family can get Claire out of her OCD housewife rut and remind us that she's actually fun, well, let's just say in our best Kim Cattrall voice: Honey, it was fabulous.
Manny is also growing up. When he describes how his latest crush Bella has "recently blossomed like a purple lilac in April," Gloria knows he's referring to "the pooberty." Then, when Manny receives a mysterious package and takes it up to his room to be alone with it, Gloria assumes the worst (funny, how we're cool with Manny as a sophisticated romantic, but the idea of him being a typical 13-year-old boy with hormones is just, ewwwwww). A freaked-out Gloria wonders if it's time to have "the talk" with Manny, but Jay is too obsessed with a crazy Colombian soap opera — whose name he likes to think is Spanish for "Big Hair and Yelling" — to be much help. Finally, when Manny shouts, "Help! I'm stuck!" Gloria sends Jay in, but it's not what we think. Phew. Manny has been hanging upside down from a bar in his closet to try to make himself taller to impress his Bella. It never even occurred to him that he could've used the $50 he spent on the Lengthinator to buy a two-year subscription to Playboy. "It's never too late to grow in life," reads the Lengthinator brochure, which also serves as the episode's Life Lessons voice-over. Jay promises to teach Manny how to work out to impress the ladies; Cam and Mitchell realize that going home early is not necessarily a bad thing; Phil and Haley enjoy a bit of lunch-tray sledding on the college green; and Claire? We hope Claire appreciates that Julian has nothing on the dashing Clive Bixby.