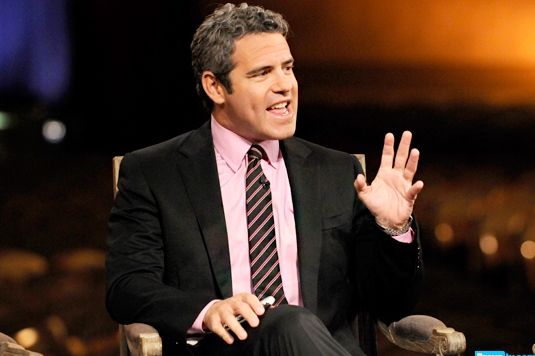 The tone of the second part of the reunion is established the moment it begins, on the tail end of last week's fight between Teresa and Caroline. "You should follow your own advice," says Teresa. "I know, my own advice was to stay away from you," shoots back Caroline. And then Andy's all, "Okay, ladies, let's take it down a notch. Melissa, Joe's pretty horny, huh?" As if that cliff-hanger was necessary because it was just impossible to have lopped off that first part and to have started the episode off fresh with a nice, benign question about intimate sexual details followed a montage of how "you do it" Jersey style. (I wouldn't be surprised if Andy edited this episode himself … in between hosting on-air cocktail parties and running the network and drugging Jacqueline so that he could take his place as the fifth Housewife!)
On the Watch What Happens following the reunion, Andy says that he received an onslaught of tweets saying he was too hard on Teresa. He looks sweetly at the camera and says that he takes our feedback seriously. He announces that this will be the subject of tonight's poll. If he was overstepping his bounds, he wants us to let him know. And then he somehow rigs half of America's cell phones because the numbers come back in at 39 percent yes to 61 percent no. Andy says that he's disappointed it wasn't a landslide, but then that would just have looked too suspicious, no?