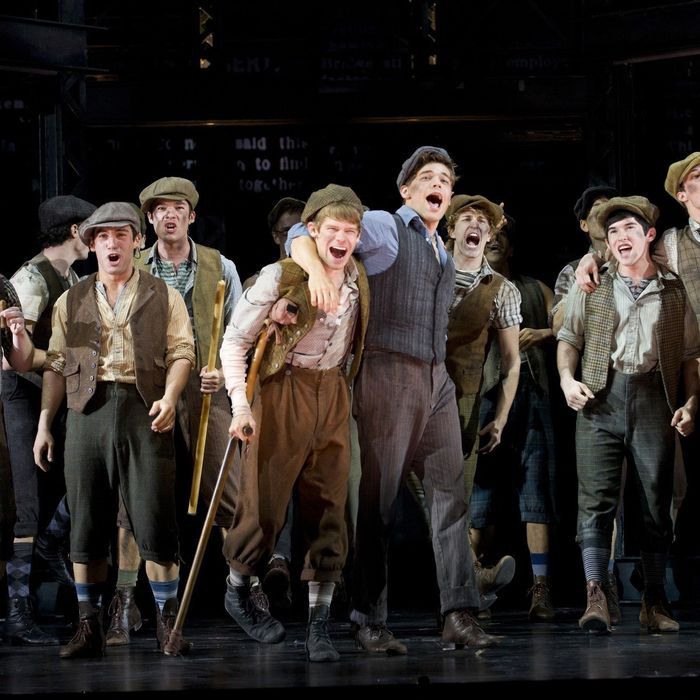 Photo: T. Charles Erickson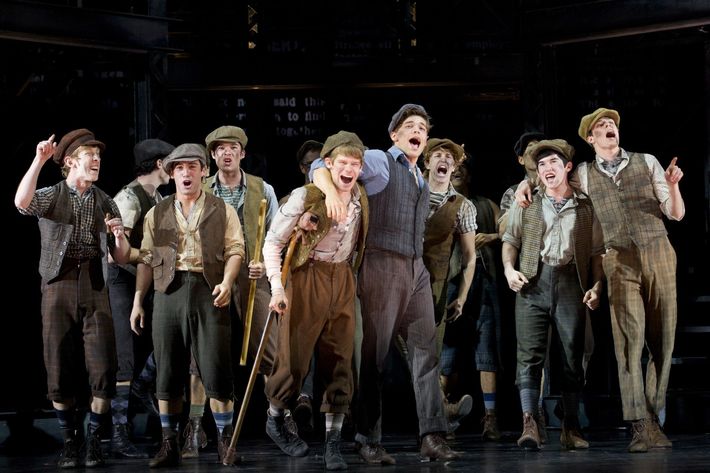 Print media, organized labor, and musical theater: Three institutions from Golden Age America so perennially beleaguered, they've more or less been reduced to camp. And really, what's so bad about that? The hour of Newsies, it appears, has finally come. Disney's preteen labor musical — based loosely on the Newsboys Strike of 1899 — was a critical pincushion and an all-singin', all-dancin' flop when it premiered eons ago, during the first Bush Administration. Now reconstituted for the stage with a new book by Harvey Fierstein, a rounded-out score by original composer Alan Menken and lyricist Jack Feldman, and a star-making turn by the one-man charm armada also known as Jeremy Jordan, the show proves itself a sentimental old-style Broadway chest-sweller of the first order. If the Mace-faced and message-challenged ragamuffins now occupying Wall Street are looking for a coherent, singable anthem (sorry, Radiohead), they should send a delegation to Jersey and take their pick: Newsies has a satchel full of 'em, all beguilingly vague ("The World Will Know," "Seize the Day"), all seditiously catchy. This is, at bottom, a children's musical about a children's crusade, but it's got some fairly sophisticated flourishes and never stoops to flaccid self-ironizing. There are worse things in life, and onstage, than an old-fashioned fairy tale about the triumph of the Exploited, where the powerful are back-sassed with pot a bourées and legitimate grievances are registered not just nonviolently, but in tap shoes.
This isn't a perfect production: The show's most popular tune, Jack's wistful get-me-outta-here ballad "Santa Fe," has been julienned and seeded throughout the show, with some shriveling effects. It's all owing to the reshaping of a subplot from the movie and, perhaps, an attempt to mimic "Maybe" from Annie, and it gives Jordan a hell of an Act One finale, but it's robbed the song (which is an audition staple for a reason) of some of its juice. The villain, Pulitzer (John Dossett), is a top-hatted New Yorker cartoon — he behaves more or less exactly as you'd like to believe a user and abuser of child labor would behave. He's also got a highly cuttable signature number that's the weakest song in the show. Other soft spots include the set, with its glumly high-tech LED screens and unwieldy "levels" (now standard on every Broadway-size show), which look like siege towers made by Playmobil. They read as shiny-new scaffolding from a construction site in Dubai, not rusty turn-o'-the-century fire escapes. Which might be fitting: Newsies is, of course, about as "real" as the Sepia camera app on your iPhone. But authenticity couldn't be more beside the point. This is a show about seizing the day, even if you don't really know what to do with it other than dance around. Is it any more or less deserving of our attention than, say, the ersatz identity politics of Wicked? Why shouldn't today's kids have their own little hellzapoppin' labor musical, just because our generation never got one?