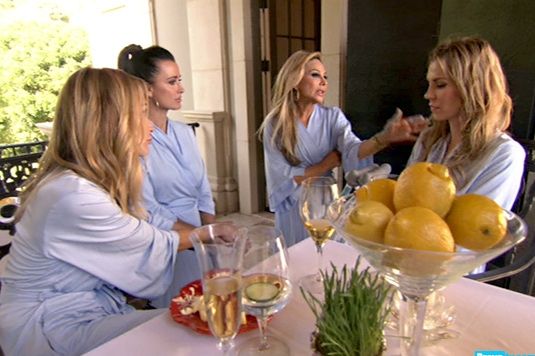 So, Adrienne Maloof has a spa in her basement, and she washes raw chickens with dish soap. Look — as far as I'm concerned, those are two "pros." I've not been coy in the past when I've sung Adrienne's praises. No, I'm not impartial: Yes, all of these women are my glorious daughters. But the Maloof has emerged, giant head and creamy-yet-somehow-also-tan exposed shoulders above the others in being this season's MVP. I remember being concerned last year that she wouldn't be invited back to the show. She was too normal, in a way, and the game she had with her bickering husband was too flimsy for the all-caps drama that fuels this series. But it's a good thing she is back — who knew this series needed a moral center? Now that there's body count on the show (Remember Russell? Dead Russell? He was in the previews for next week's episode and it was like seeing a ghost), it's a relief somehow to see somebody on this show who is concerned with other people's feelings.
• Brandi's jumpsuit. I didn't know they made jumpsuits in Capri-length, harem-pant varieties, though I was relieved to see the style didn't diminish her exquisite camel toe one bit. The camel toe is the smile of the body, if the body were a face! My mother told me that. My mother did NOT tell me that.
• One of Adrienne's manicurists looked like she was rejected from the staff of Millionaire Matchmaker for not being rockabilly enough. Bravo, Bravo! Your crossover/personnel recycling is commendable.
• Kim going on about how she didn't think Brandi had a pretty mouth is probably up there in terms of this season's best monologues. In fact, Kim found Brandi's mouth to be a "dirty, dirty, ugly mouth." What is this, Deliverance?
• WHO WAS THE MYSTERY MAN with the hairy forearms that Kim was with in the preview for next week's episode? Or, how can one woman be so lonely when she's been secretly dating somebody? We'll have to wait to find out.