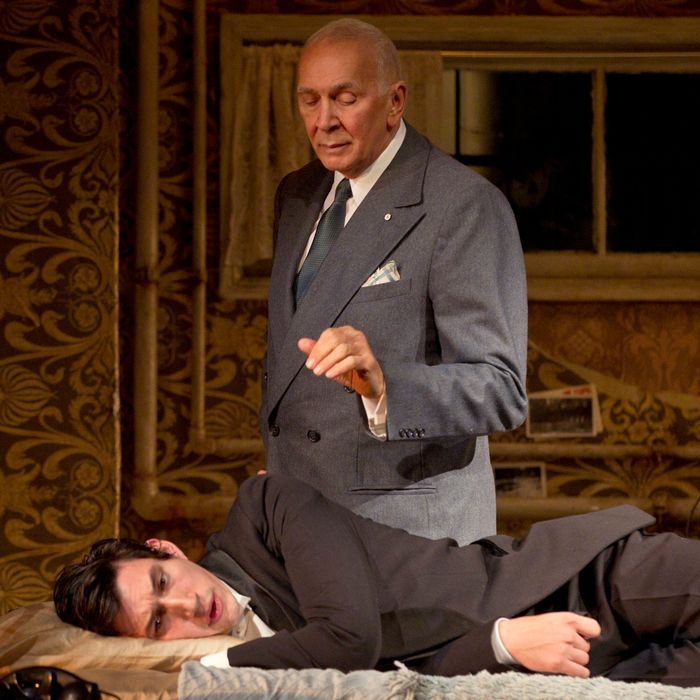 Photo: Joan Marcus/?2011 Joan Marcus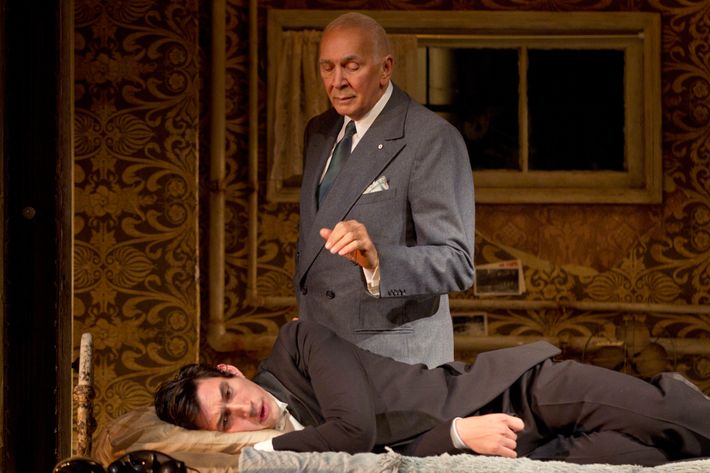 The older the vampire, the longer the fangs: In Man and Boy, the Roundabout's uneven new revival of an uneven old Terence Rattigan melodrama, Frank Langella, once and future Nosferatu, is given free rein to do what he does best, i.e., seducing and menacing and occasionally sinking his teeth into the puny mortals who surround him, all in tones as dark and deep as aged cordovan. But the monster of charm and guile he plays here, one Gregor Antonescu — a Depression-era financier with a hemoglobin-tinged Carpathian accent and a worldwide house of cards that's on the brink of collapse — is the real prey. As his empire of "confidence and liquidity" crumbles and the noose tightens, Antonescu hides out in the Greenwich Village bachelor-hovel of his estranged offspring Vassily (Adam Driver), who now calls himself Basil and passes as an Oxford-educated Yank. The father hopes to enlist the son's (mostly unwitting) support in a last-ditch gambit to save his vast holdings and, with them, the whole dirty, corrupt, indispensable "system" they underpin. Basil's loyalty is hardly guaranteed: Five years prior, he disowned Antonescu in rather dramatic fashion (a pistol shot was involved), and reinvented himself as the sort of "goddamn Bolshie" who chides Roosevelt for "not going far enough fast enough." Will blood prove thicker than liquidity?
Man and Boy is at the American Airlines Theatre through November 27.