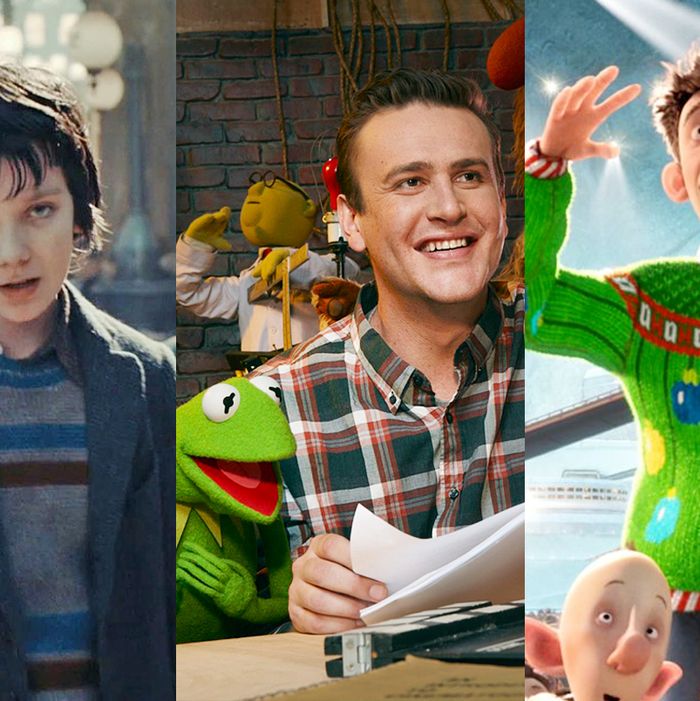 Hugo, The Muppets, Arthur Christmas
Photo: Paramount Pictures, Walt Disney Pictures, Columbia Pictures
Next weekend families will stuff their faces with food for Thanksgiving. But at the same time three movie studios will inexplicably be stuffing theaters with family films. The holiday weekend will see the opening of three major movies all fighting for the same audience: Disney's The Muppets, Sony's Arthur Christmas, and Paramount's Hugo. "Who thought this was a good idea?" railed an incredulous former marketing chief. "Two of them are going to flame out and die." So (Pilgrim metaphor alert!), which movie will feast on dollars, and which will be handed the box office equivalent of smallpox-plagued blankets? Read on for the answer, but shield your child's innocent eyes — it could get ugly.
The Muppets is meant to revive Jim Henson's creations, introducing Kermit, Miss Piggy, et al. to a whole new generation of kids. At first glance,that seems problematic, as special "family tracking" NRG audience research leaked to Vulture by studio insiders shows that while a whopping 93 percent of kids under 12 are aware of The Muppets, only 39 percent of that group expressed "definite interest" in seeing them return to the big screen. And kids 12-16 are even less interested: While 78 percent are aware, only a little more than one in four of them (29 percent) expressed definite interest. "Disney always wanted to make this a movie that reached all demos," says our marketing spy. "But something about the concept is not resonating with older kids." It could be that today's youth are so used to flawless CGI and Pixar that a bunch of puppets seem distastefully low-fi, or maybe the Muppets seem as antiquated as Howdy Doody. Either way, kids are not clamoring to attend. But lucky for Disney, their parents are.
In the surveyed group known as "parents taking children," 87 percent have strong awareness, and, encouragingly, more than half of them (53 percent) express definite interest in seeing The Muppets. Considering that kids between the ages of 7 and 12 don't buy their own movie tickets and rarely go to the movies by themselves, their parents' nostalgic ardor will have them dragging the kids along whether they're definitely interested or not. (Contrast that to past reboot bombs Footloose and Fright Night, which were targeted to teens coming by themselves, not to the parents who saw the originals.) The Muppets will open well, likely between $35 million and $40 million over the five-day Thanksgiving holiday – not bad for a film that cost roughly that much to make.
But what of the other two kid films? Sony is currently shoveling wheelbarrows full of cash into the media buying furnace, buying a raft of TV ads to desperately try to increase both awareness and interest in Aardman Animation's Arthur Christmas. The campaign is certainly raising awareness, but not spiking much interest. Seventy percent of kids (defined by NRG as those under 12) are aware of Arthur Christmas, but that's not the same thing as actually wanting to spend time with him for 90 minutes in the dark: Only one in three expressed a desire to see the movie. And unlike The Muppets, parents aren't that interested in forcing the issue for a concept for which they have no nostalgia: 57 percent of "parents taking children" had heard of it, and less than half (47 percent) of this smaller pool had any enthusiasm for seeing it.
To underscore just how hard a sell Sony is facing right now, consider this: Two days before Puss in Boots opened, NRG research found that almost 90 percent of audiences were aware of the DreamWorks movie, and 34 percent of them had definite interest. By comparison, two days before Arthur Christmas opens, the movie currently has less than 50 percent awareness, and just over 20 percent definite interest.       
"They might be able to gain five or six points [of 'definite interest'] in the next week, because Sony is throwing money at it like mad," says one of our marketing insiders, adding that options are limited, because "the animated universe is highly inelastic. There's a certain audience that just won't go see an animated film, no matter what." Our marketing and distribution spies forecast an opening that will only reach between $15 million and $20 million for the five-day weekend, this for a $100 million-plus film.
Still, that's positively rosy compared to the dire situation confronting Martin Scorsese's 3-D Hugo, which is in the deepest trouble of the three newcomers and having great difficulty getting traction. Consider how it has complicated its two familiar brands: It's based on a beloved children's book (The Invention of Hugo Cabret), but has shortened the title, making it not immediately recognizable. (Its ad and outdoor campaigns don't make clear what the movie is about for the uninitiated.) And it's directed by Martin Scorsese, a name that means nothing to kids. As one marketing chief deadpanned, "'From the director of Mean Streets and Raging Bull, kids!' … no? 'From the man who brought you The Departed!' … Ring any bells? No?" His name is likely touted as a lure for parents, but for adults who love his work, seeing "Martin Scorsese" attached to a family movie mostly causes cognitive dissonance. In his publicity rounds, Scorsese keeps stressing that this was an important film for him because it tells the story of early filmmaker Georges Melies; while this may intrigue his most ardent film-savvy fans, his more casual followers would probably think, "Call me when he puts someone's head in a vice."
The unpromising numbers for Hugo show that less than half (48 percent) of all children are aware of the movie, and less than a third (just 30 percent) of those who've heard of it expressed "definite interest." Kids 12-16 are even less aware, with fewer than 40 percent having heard of it, and fewer than one in five of that small group expressing definite interest. Worst of all, parents identified as "taking children" to the movies not only have similarly poor awareness (47 percent) of Hugo, they have even less interest, with fewer than one in four (24 percent) expressing definite interest.
Explains one distribution chief, who winced at the NRG numbers, "If parents really want to go but kids don't, you can still do okay. And if kids really want to go, but the parents don't, you can still do okay. But when the parents and the kids both couldn't give a shit, that means: You're done." Says the former marketing chief, "This is a disaster. If I were sitting on these kinds of numbers for Hugo, I'd actually cut spending right now."
Our marketing and distribution spies say that, at best, Hugo can hope to earn just around $10 million over five days, because while three family films opening on Thanksgiving would be tough enough competition, there will still be holdover audiences for Happy Feet Two, which opens this weekend. And then there's the tenacious lingering popularity of Puss in Boots, which since its October 28 opening has grossed $110.8 million and never dipped farther than No. 3 on the box office charts. Our distribution-chief experts say they expect that even in its fifth weekend, Puss will still outgross the debut of Hugo by a whopping five million dollars.