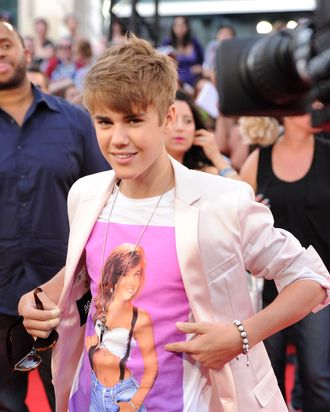 Photo: George Pimentel/2011 George Pimentel
Take a deep breath, everyone, and exhale: TMZ reports that Mariah Yeater, the 20-year-old woman who claimed that Justin Bieber fathered her young child, has thought better of the lawsuit. More to the point: her lawyers quit, presumably to avoid defending Yeater against a countersuit. This is great news for almost everyone except the producers of Maury, who were hoping to have Justin take his paternity test on their show  (Keep dreaming big, guys.) Anyway, congratulations to all the Beliebers! Everyone enjoy one last "Baby, baby, baby…No!" in celebration. UPDATE: Wait, no, Yeater just found a new team of lawyers who are willing to go through with the suit (and speak to the press.) She is still requesting that Bieber take a paternity test.
*This post has been updated to reflect new information.