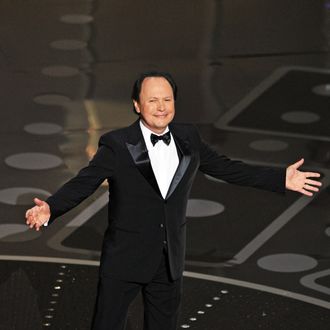 Billy Crystal.
Photo: GABRIEL BOUYS/AFP/Getty Images/2011 AFP
In the recent past, the Academy has placed a premium on finding outside-the-box Oscar hosts, but after experimenting with James Franco, Anne Hathaway, and Eddie Murphy to disastrous returns, this week has brought us the return of Billy Crystal, who's hosted eight times before. For Academy members left shaken by the Brett Ratner brouhaha, the choice is a good, safe one, since now they know exactly what they're going to get. Still, it's been several years since Crystal last hosted the Oscars; is it time for him to change things up a little? After reviewing his past performances, here are the three strengths we think he should play to, as well as three recurring bits he may want to revamp.
GOOD: What the stars are thinking
It's one of Crystal's simplest bits, and perhaps his most effective: As the camera cuts to a famous movie star in the audience, Crystal narrates the actor's inner thoughts. It's a lesson on how to tweak a famous person without going full-Gervais, and it's almost as much fun to watch the star writhe in her seat when the camera lands on her and even before Crystal has said a single thing.
BAD: Billy Crystal doing his "black person" voice
But Billy? Please stop with the funny voice when you're narrating a black person's thoughts. (Especially with Viola Davis and Octavia Spencer in the mix this year.)
GOOD: Splicing Crystal into the year in movies
The Oscars attempted to cut Anne Hathaway and James Franco into last year's movies, but it didn't quite work, mostly because Hathaway and Franco were actually in a lot of last year's movies. By contrast, plopping Billy Crystal down in Midnight in Paris, The Help, Harry Potter, or even Fast Five is an immediately comic juxtaposition. A well-produced, pre-taped intro is probably the best (and safest) way to open the Oscars, and Crystal is a master at them.
BAD: Excessive shirtlessness
You may have blocked this from your mind, but after making City Slickers, Billy Crystal started working out and going shirtless or near-nude whenever possible. (Exhibit A is below.) We can't speak to what kind of shape he might be in today as a 63-year-old man, but Billy? We don't need to see that.
GOOD: A clever entrance
Whoopi Goldberg had wild costume changes, and James Franco dressed as Marilyn Monroe for no discernible reason, but neither of them could match Billy Crystal's enormously effective entrance in full Hannibal Lecter restraints at the 64th Academy Awards. (This one's not embeddable, but you can check it out on YouTube.)
BAD: Medleys
Bear with us! Obviously, Crystal's mild song about the nominees is his stock in trade, but Neil Patrick Harris has taken this shtick and run with it in a genuinely dazzling way. After watching Harris deliver a hilarious, hastily written rapid-fire rap to close out the Tonys and simply crushing it, can we really go back to Crystal's "Oscar, Oscar" ditty and Catskills-level puns so easily?