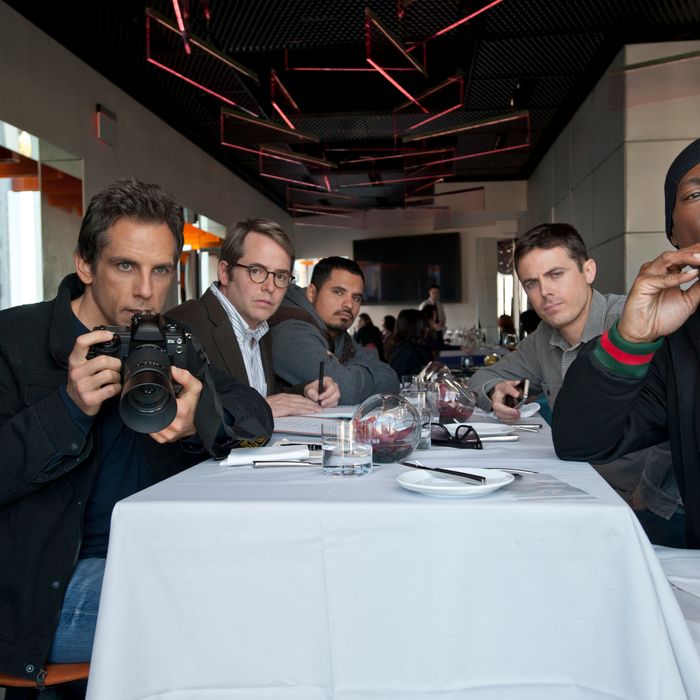 Ben Stiller, Matthew Broderick, Michael Pena, Casey Affleck and Eddie Murphy in "Tower Heist"
Photo: Photo Credit: David Lee/Copyright: ? 2011 Universal Studios. ALL RIGHTS RESERVED.
After a record opening for Paranormal Activity 3 two weeks ago injected a bit of enthusiasm back into a down-in-the-doldrums Hollywood, seems the box office is back into disappointing territory. This weekend's total gross is projected to be a full quarter less than a year ago, reports Deadline, with Nikki Finke quoting one unnamed movie executive waxing apocalyptic: "The fear is that our total business is in the toilet." Looks like Puss in Boots is going to top the weekend after its snowbound opening last week, with Ben Stiller and Eddie Murphy in Tower Heist looking to take second with fewer than expected African-American and Latino viewers. Warner Bros.' spoof comedy A Very Harold & Kumar 3D Christmas had tracked well in prerelease — with solid Rotten Tomatoes ratings — but was earning below expectations even with higher 3-D ticket prices. Maybe it's time to rejigger the traditional movie theater arrangement a little so people actually want to go — like, how about franchising the New York concessions to Shake Shack and the California ones to In-N-Out?