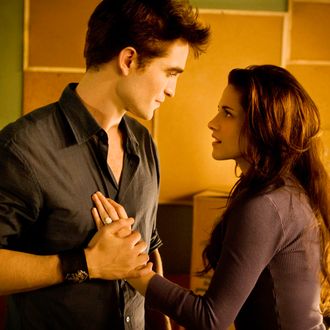 ROBERT PATTINSON and KRISTEN STEWART star in THE TWILIGHT SAGA: BREAKING DAWN-PART 1 Ph: Andrew Cooper © 2011 Summit Entertainment, LLC. All rights reserved.
Photo: Andrew Cooper/Summit Entertainment, LLC.
The final scene of Twilight: Breaking Dawn — Part 1, in which Edward delivers his half-vampire child with his own teeth, is not for the faint of heart. Bella's blood is smeared all over the makeshift (yet stylish) delivery room, the whole cast starts screaming, and, again, a vampire is performing a C-section with his fangs. But apparently its hazards extend beyond the basic gross-out. At least two audience members have reportedly gone into convulsions while watching the birth. A medical expert tells CBS Sacramento that the scene's repeated use of black, white, and red images (if Vulture recalls correctly, this refers to the close-ups on the unborn vampire fetus) could be "triggering an episode of photosensitive epilepsy." The moviegoers in question were adult males, so the seizure explanation does seem more likely than an acute attack of Twihard swooning. Anyway, you have now been warned about all possible side effects of Breaking Dawn.