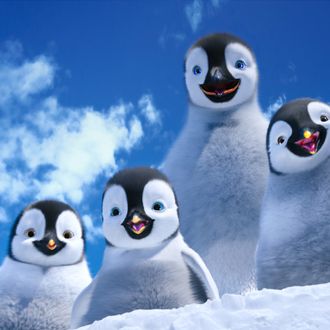 Warner Bros.
Photo: Photo courtesy of Warner Bros. Pictures/? 2011 Warner Bros. Entertainment Inc. – U.S., Canada, Bahamas & Bermuda ? 2011 Village Roadshow Films (BVI) Limited – All other territories
Considering the insane fandom for the Twilight series, it would seem like folly for anyone to take on Breaking Dawn – Part 1, which opens next Friday the 18th. And yet the brave and squat heroes of Happy Feet Two are doing just that, and according to the Anticipation Index — Vulture's scientific ranking of real-time buzz — Team Mumble may do just fine.
Happy Feet Two has been riding high for weeks. In the days leading up to Puss in Boots' smash debut two weekends ago, that soon-to-be-hit was in third place on the AI, but HF2 was not far behind it in sixth place. This was two weeks before HF2 was to open, and it was already trumping another October 28 opening, In Time, which sat at No. 7. Then last week it ranked ahead of Tower Heist and A Very Harold & Kumar 3D Christmas. And now, a week before opening, it actually leads Breaking Dawn on the AI: HF2 is at No. 7, while Twilight is at 15. And it's not like promotion bots are propelling HF2. The kid flick is getting very human, excited tweets like "K who takin me to see Happy Feet 2.? Lol." (All LOLing aside, who is takin' her? Because we really should have transportation lined up.) While it would be unwise to bet that HF2 will top Twilight at the box office, the movie will be far from shipped out on an ice floe. And who knows, if it turns out that there's a bed-rattling penguin sex scene, that might just give it the edge.