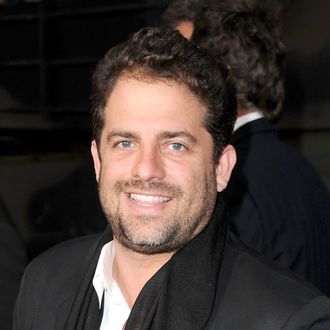 Brett Ratner.
Photo: Jason Merritt/2010 Getty Images
Brett Ratner probably thought he'd spend most of today putting a good face on Tower Heist's less-than-projected weekend box office take, but after Vulture reported this morning on Ratner's now-notorious comment "Rehearsal is for fags," the director has found himself even more on the defensive. "I apologize for any offense my remarks caused," Ratner told The Wrap. "It was a dumb way of expressing myself. Everyone who knows me knows that I don't have a prejudiced bone in my body. But as a storyteller I should have been much more thoughtful about the power of language and my choice of words."
Still, that apology might not be enough to appease Ratner's critics, especially since his next high-profile gig is producing the Oscars. Over at Grantland, in a piece called "Why the Academy Should Fire Brett Ratner," Mark Harris argues "There's not really a long, nuanced debate to be had about this. If he had used an equivalent racial or religious slur, the discussion would go something like, 'You're fired' … You don't get a mulligan on homophobia. Not in 2011." Meanwhile, GLAAD has called Ratner's comment "unacceptable," with the gay watchdog group promising further action to come.

Still, if there's any upside to all this for Ratner, it's that the comment pulled focus away from his potentially headline-grabbing appearance on Howard Stern's radio show today, where he bragged that he made Lindsay Lohan take an STD test before he had sex with her. "I'm like a cootie freak," Ratner explained. "I'm a germaphobe. I'm a hypochondriac. Before I go all the way, I send the girl to the doctor and check them for everything. My doctor has a test to tell if you're going to catch something in the future even." Luckily (?), Lohan passed the test, and Ratner claims that he continued to consort with her for a few months until she discovered that he was cheating with Victoria's Secret model Alina Puscau. When taken with Ratner's recent ancedote about having sex with Olivia Munn ("before she was Asian"), it's clearer now than it ever was before: Brett Ratner is definitely not your typical Oscar producer. The question going forward is whether he'll be able to hold onto that job.
UPDATE: AMPAS president Tom Sherak weighs in at Deadline: "The bottom line is, this won't and can't happen again. It will not happen again. He apologized and we will move forward. How do I know this? I've known this man for a very long time. He has many friends who are members of the gay and lesbian community. The apology he gave I truly believe comes from his heart. If it didn't believe it, I would do something about it. This is about integrity and honoring the Academy Awards, but we all make mistakes and I believe he didn't mean it."