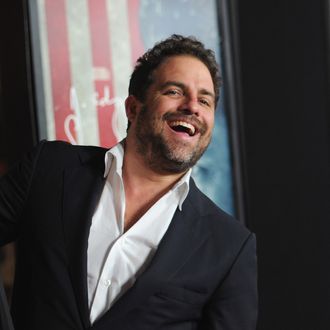 Brett Ratner.
Photo: Alberto E. Rodriguez/2011 Getty Images
Before his brash comments made Brett Ratner persona non grata at the Oscars, he was just a simple Everyman director hoping his anti-capitalist-greed movie Tower Heist would bring some solace to the Occupy Wall Streeters then still living in Zuccotti Park, protesting a financial system that took advantage of the general public. In early November,  while appearing on G4's Attack of the Show, he professed that he was "sorry about the people down on Wall Street having to suffer through this" and revealed that he had "offered to have a big screening for them down on Wall Street, but they weren't having it." As it turns out, Ratner has experienced market malfeasance up close: Securities regulatory filings obtained by Vulture show that in 1989, just prior to making his first short film, the director-to-be worked as a broker at one of Wall Street's most notorious boiler rooms, South Richmond Securities. It was a brokerage so corrupt that it would eventually be fined over a million and a half dollars and put out of business by the National Association of Securities Dealers (NASD) for defrauding clients by manipulating stock prices and overcharging on commissions, both during and after Ratner's tenure.
The filings obtained by Vulture show that Ratner, then still a student at New York University's Tisch School of the Arts, worked as a South Richmond broker from September 1st, 1989 through January 9th, 1990. Soon after leaving the company's Rector St. offices (just five blocks from Zuccotti Park), Ratner set about making Whatever Happened to Mason Reese?, the comedic short film that would launch his directing career; it landed him a grant from Steven Spielberg's original production company, Amblin Entertainment, and inspired an impressed Russell Simmons to hire him to direct music videos. Ratner got out of South Richmond just in time: Less than three weeks after his departure, the company was fined $150,000 by the NASD for selling securities "at prices that contained excessive mark-ups" and for falsifying sales records to hide the fact that South Richmond was doing a "pump and dump" — artificially creating demand for stocks it secretly owned by pushing them on its clients, then selling off its own shares and leaving the customers with now-worthless positions, paying a commission for the privilege all the while. They would be hit with hundreds of thousands of dollars in additional penalties until 1995, when the NASD went nuclear, fining South Richmond a whopping $1 million and banning them from working in the securities industry for not paying previous fines.
According to Ratner's rep, "He left because he was a lousy stock broker, and wasn't making any money. It was just a part-time job… He had no idea anything untoward was going on. Indeed, until you inquired about this, he had no idea that the firm had ever been accused of improper practices." However, one former broker who overlapped with Ratner says, "There is no way any licensed stock broker could work there and believe they were abiding by federal securities law. There were three to five stocks at the most, on a board, and that was the entire investment universe from which you were allowed to pick to sell [to clients]. That and the fact that clients were being charged in excess of the standard commission – which is a no-no – with the extra charges then split with the brokers."
Whether he did or didn't know what was actually going on at South Richmond, the experience seems to at least left a mark on Ratner's unconscious mind, as some of his subsequent studio movies contain references to the evils of the stock world. In 2000's The Family Man, a soulless Wall Street investment banker realizes that a mini-van and a wife are preferable to corporate raiding. In the Ratner-produced Horrible Bosses, one of the three horrible bosses works at a financial firm. And Tower Heist's central villain is a Bernie Madoff knockoff. And look: Even his first studio film, 1997's Money Talks, starred the original poster boy for stock market chicanery, Wall Street alumnus Charlie Sheen. Perhaps we can all look forward to his next movie, Rehearsal, Yay! Capitalism, Boo!