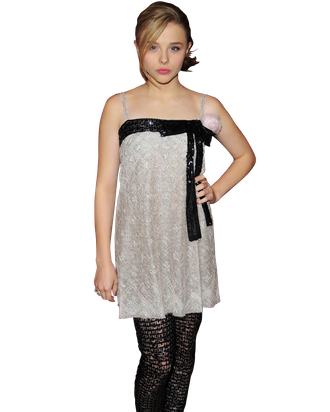 Chloë Moretz.
Photo: Chance Yeh/PatrickMcMullan.com
In her fourteen years on Earth, bright-eyed actress Chloë Moretz has already had a career most actors would kill for. She's played a superhero (Kick-Ass), a ruthless, budding CEO (30 Rock), and a vampire (Let Me In). So it's no surprise that Martin Scorsese turned to this cinematic chameleon to star in his first kid's film, the 3-D Hugo (in theaters November 23), about a skittish orphan (Asa Butterfield) who befriends a precocious teen (Moretz) in a thirties Parisian train station. Intrigued by her vast appeal, Vulture rang up the bubbly actress for the scoop on working with Scorsese — or, as she calls him, "Marty."
Being 14, have you really seen much of Martin Scorsese's work?
I mean, of course I knew a lot about Martin Scorsese because he's an icon. One of the biggest directors living at the moment, you know? But my mom was like, "Um, you can't see this yet."
So how do you know whom you're working with if you can't see their work?
Well, I had seen The Aviator. That was the only one. And he was just amazing from that movie.
What was it like auditioning for him?
I actually tricked him. It was hilarious. I was speaking in a British accent all the way through the audition. He was like, "Wait! You're American? No way, kid — the whole time I thought you were a Brit." I was like, "Thank you, Marty."
You get to call him "Marty"!
I know, right? I walked in and said, "It's nice to meet you, Mr. Scorsese." And he was like, "Call me Marty, kid!" So after that, I was like, "Hey, Marty. Hi, Marty. Hey, Marty!
Does that mean, by association, you get to call Robert De Niro "Bobby"?
I think I'd be too scared. I'm just super-Southern. My whole family makes me say Mr. duh-duh-duh. So I find I have to be polite to my elders, 'cause my mom would kill me if I wasn't.
So how did you develop such a compelling English accent?
I worked with my brother Trevor. He was my dialect coach, and we came up with a character. One of the American-to-British accents that I studied was Gwyneth Paltrow in Shakespeare in Love. She did such a phenomenal accent in that movie. That was my basis.
Thanks to Scorsese, you're now a member of the Film Foundation. Can you explain what that entails?
When I shot Hugo, I told Scorsese how much [dramatic pause], how much I looooove Audrey Hepburn. I think she's the most amazing actress. I've seen any movie she's ever been in. He was like, "Since you like Audrey, I'm going to show you a film called The Red Shoes. Watch it, and tell me what you think." And I absolutely loved the movie. And he goes, "That's actually one of the films that my charity the Film Foundation found and restored it." Once I heard that, I had to be a part of it. I fund-raise. I publicize it. My friends haven't seen a lot of old movies, until I showed them. I just try to get my generation into it.
You and your co-star Asa Butterfield have a lot of scenes together. Did you do any bonding exercises?
We were pretty fast friends. We got each other's information at the audition, and from then on, we were always talking. And we hung out after scenes: We always played Ping-Pong together, played Xbox. We had a lot of fun together.
Then you went on to work with Tim Burton on Dark Shadows.
It was very mind-blowing. My dream director to work with had always been Tim Burton. He makes these movies that are beautiful and so out there. I walked on set [one day] and was like "OMYGOSH. I'm having a dinner scene with Helena Bonham Carter, Michelle Pfeiffer, Johnny Depp, and all these genius actors and Tim Burton in the corner directing us." This is why I act. This is why I want to act.
You also seem to love the red carpet. Why?
My look is super-eclectic, I'd say. My mom doesn't allow me — in my everyday look, at least — to wear really high fashion because she finds it inappropriate for young girls to be buying Chanel and Versace and everything. But when I get to dress up, I love going all out: I love Versace, Chanel, Givenchy, Dolce & Gabbana, Dior. Whenever I have a press tour, I always try to fit in as many amazing clothes as I can because I know the minute I got home I have to change into my normal little clothes.
What was the highlight of that H&M-Versace party you recently attended?
It was so fun meeting Donatella [Versace] — she's such an icon. And I met Nicki Minaj. I was like, "OOOOOOOOOH!" Well, here's the thing: I didn't exactly meet her. She started walking past me with all her bodyguards, and I shouted out, "Oh my God, Nicki, I love you." And she, like, went, "Thaaaanks." I probably scared her.
Would you ever be interested in doing a fashion campaign like your peers Hailee Steinfeld or Elle Fanning?
Yeah, that'd be a lot of fun. I just did the cover of Interview, and I have Teen Vogue coming out. It's really exciting. I'd love to model for [a fashion company], but if I do everything when I'm 14, I'm not going to have anything to do when I'm 19. I'd like to position myself now, so that when I'm older I can venture out. That way the press won't be tired of me.