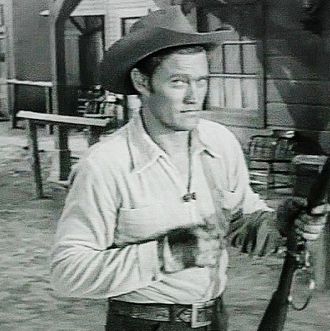 The Rifleman.
Photo: Four Star-Sussex Television
One of the hottest development trends at the networks this year is the revival of the western, and now CBS is jumping on the (trail) wagon in a big way: The Eye is teaming with Harry Potter director Chris Columbus to bring back ABC's late 1950s Chuck Connors oater The Rifleman. Laeta Kalogridis, the Avatar and Shutter Island scribe who previously oversaw NBC's failed reboot of The Bionic Woman, is partnering with Drive Angry writer/director Patrick Lussier to pen a pilot script for the project,  with Columbus attached to direct the pilot should the project get a greenlight. CSI vet Carol Mendelsohn is also on board as an exec producer, along with Julie Weitz, Robert Levy, Steven Gardner and the 101-year-old producer of the original series, Arthur Gardner. So what exactly sets Rifleman apart from the myriad other Westerns in the pipeline (or, in the case of AMC's just-debuted Hell on Wheels, on the air)?
Well, for one thing, the show isn't your typical sprawling Western epic. It's a more personal story, centered around a Civil War hero named Lucas McCain who's trying to both raise his son as a single dad and run from a dark past. He moves to the New Mexico territory to cook meth team up with the local marshall and guard his new hometown from the usual assortment of frontier baddies.
The Eye's decision to reboot Rifleman is actually a homecoming of sorts for the series: While it aired for five years and 169 episodes on ABC, the show had its roots in CBS's Dick Powell's Zane Grey Theater. An episode of the latter show, dubbed "The Sharpshooter," essentially served as the pilot for Rifleman. Once it became a series, Rifleman became known for its socially conscious storylines, and even tackled issues such as racism with guest stars like Sammy Davis, Jr. The ambition of The Rifleman makes more sense when you realize who created and developed the series: A young Sam Peckinpah, who would go on to direct classic films such as The Wild Bunch and Straw Dogs. Peckinpah left the show after its first season; Jules Levy, Gardner and Arnold Laven remained as producers.