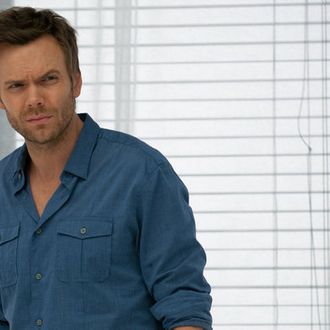 Joel McHale.
Photo: Colleen Hayes/? NBCUniversal, Inc.
NBC is pulling Community from its midseason schedule to make room in January for the return of 30 Rock and a new comedy based on the life of Chelsea Handler. The Peacock just announced its winter 2012 lineup, and the good news is that 30 Rock will be back on Thursday nights starting January 12. Also: Whitney is being banished to Wednesday nights, while Up All Night is getting promoted to NBC's best time slot for comedy, 9:30 p.m. Thursdays. The bad? 30 Rock will air at 8 p.m., replacing the low-rated Community for an indefinite amount of time. NBC's press release ominously includes no mention of the Greendale gang, but a Peacock spokeswoman assures Vulture that the show is simply being put "on the bench for a bit" and will return; exactly when, however, is unclear. So what other changes is NBC making?
Well, for one thing, Prime Suspect is no longer on NBC's lineup; network insiders say no decision has been made on its future, but things sure don't look good. Replacing it Thursdays at 10 p.m. is a new series adaptation of John Grisham's The Firm, which gets a Sunday-night two-hour premiere on January 8 before moving to Thursdays on January 12.  NBC's new Wednesday lineup will feature Whitney leading off the night, followed by the aforementioned Are You There, Chelsea? (starting January 11) and a relocated-to-Wednesdays Rock Center (beginning February 8). NBC is expanding its Sunday edition of Dateline to two hours beginning January 8, but then on March 4, the newsmag will shrink back to one hour to make room for a relocated Harry's Law; Celebrity Apprentice returns Sunday, February 12 at 9 p.m.
Two more reality shows are headed to NBC next year: Who Do You Think You Are? begins a new season on Fridays on February 3, while the Project Runway-like Fashion Star replaces Parenthood Tuesdays at 10 p.m. starting March 13. (Parenthood ends its season February 28.) Finally, as previously announced, NBC's new Monday lineup begins February 6, with The Voice airing from 8 to 10 p.m., and Smash following at 10 p.m. Still no word on a premiere for new NBC midseason drama Awake, whose producers had been anticipating a January premiere.
In other midseason shuffling, meanwhile, CBS says Rules of Engagement will go on hiatus in January and be replaced Thursdays at 8:30 by a Rob Schneider comedy called Rob, but with exclamation points in front of and behind the title, all Spanish-style. It debuts January 12. Also: Undercover Boss begins a new season Sunday, January 15 at 8 p.m.