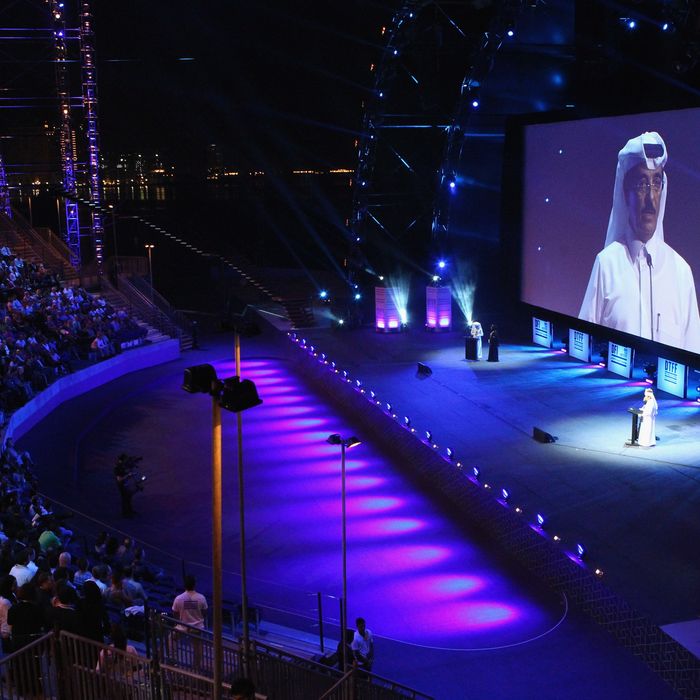 The outdoor 'Black Gold' premiere at the Doha Tribeca Film Festival.
Photo: Alexandra Wyman/Getty Images for Doha Film Institute/2011 Getty Images
The opening night selection of the recent Doha Tribeca Film Festival in Qatar was the epic $55 million adventure Black Gold, which centers on the Arabian Peninsula's twentieth-century oil boom. It was ostensibly picked to underscore the fest's goals of spotlighting Arab talent, jump-starting a local film industry, and strengthening the cultural exchange between the Middle East and the rest of the world. And yet the movie itself seemed a parody of those very ideals: Not only was it rife with Arab stereotypes, it was curiously devoid of actual Arabic talent. Freida Pinto (Indian) starred as the just-married princess slinking around the harem in a belly-baring "Bedouin girl" getup; Antonio Banderas (Spanish) was the unctuous, oil-greedy emir, all cocked eyebrows and despicable schemes; and Mark Strong (British) played the camel-riding stoic who dispenses pithy aphorisms to his teen son, Tahar Rahim (French). The film was directed by the French Jean-Jacques Annaud (Seven Years in Tibet), shot by similarly French Jean-Marie Dreujou (Two Brothers), and scored by American composer James Horner (Titanic and Avatar). The only major contributor from the Arab-speaking world was Tunisian producer Tarak Ben-Ammar. For a festival that's raison d'etre is to encourage Arab cinema, spotlighting Black Gold was like an Indian film festival giving Fisher Stevens an honorary award for his work in Short Circuit.
The flashy nature of the film reflected the prosperity of the Qatari capital, with its sparkling glass towers, roads full of Jaguars, and megalithic shopping malls. And now the country's petroleum-derived wealth is also being used by the backers of Doha Tribeca to build something that feels like the original Tribeca Film Festival, with all of its cultural clout. But Tribeca takes place in New York City, where a filmmaking community has been growing for years. Doha is reverse engineering this process: They've started with a giant celebration of a movie culture that doesn't yet exist, hoping to inspire regional artists to spring up and fill it with films, eventually making Doha the New York of the Middle East. But until that happens, they'll happily pay big money to rent other countries' artists. Is it possible for a filthy-rich country to pay its way to becoming a cultural haven?
For all of its glitzy development and conspicuous consumption, Qatar has little in the way of soul. Unlike its dream model of New York City, Doha is isolated and without much cultural heritage to speak of, with a downtown made up of Jetsons-esque urban clutter that's at once very alive and totally dead. Cranes and scaffolding crowd the skyline, and imposing glass edifices shoot up from the concrete-covered desert. But the city center is almost entirely devoid of pedestrians and storefronts, or even proper sidewalks, for that matter. The interior of Qatar is primarily sand and desolation, a vanishing expanse that ends, 65 miles south of the capital, with the Saudi Arabian border.
Doha is currently in a race with its nouveau-riche neighbors Abu Dhabi and Dubai (which, with Qatar, comprise the region's holy trinity of new money and excess) to build up a culture and reputation. Dubai boasts the world's tallest structures; Abu Dhabi is building branches of the Guggenheim and the Louvre; and Doha is setting up world-class museums and cultural institutions. All three hold lavish film festivals within two months of each other. But while the other two are sales-focused, Doha Tribeca was intended to be a community-minded artistic showcase. It was the brainchild of Sheikha Mayassa bint Hamad bin Khalifa al-Thani, the daughter of the Emir of Qatar; she wanted to emulate the Tribeca Film Festival, which she fell in love with while serving as an intern there in 2006. Robert De Niro's role as a founder of Tribeca made it all the more beguiling, both for his cultural impact and his status as an American movie star. "In the Arab world, he's one of the biggest stars ever," said Chadi Zeneddine, a filmmaker and Doha Film Institute programmer who focuses primarily on contemporary Arab cinema, "and that resonates." (Doha Tribeca is considered a cultural and creative partnership between the DFI and Tribeca Enterprises; it is not "run" by Tribeca Enterprises.)
The original Tribeca Film Festival had been conceived in 2001 as a way of pulling the city together after 9/11; Sheikha Mayassa intended for her festival to create and unite an artistic community. "At the time, there was absolutely no film culture to speak of in Qatar," said Geoffrey Gilmore, who plays a supportive role in the new festival and is Tribeca Enterprises' chief creative officer and former director of the Sundance Film Festival*. Doha didn't intend to replicate Tribeca, but rather aimed to replant a piece of New York's cultural landscape in foreign soil, and see where it went from there. "The initial conception was 'Tribeca in the Desert,'" explained Gilmore. "But now it's evolved so far from that."
Tribeca is set in a city whose artistic community has evolved and transformed for decades, but Doha is on a mission to turn itself into a cultural haven at time-lapse speed through sheer force of wallet. The city is in the process of constructing a sprawling, elaborate, faux-ancient "cultural village" called Katara, where the Doha Tribeca Film Festival takes place. The partially completed Katara has been conceived as a residential and commercial complex that includes amphitheaters, opera houses, a promenade, a beach, music and art schools, cupcakeries, restaurants, and hookah lounges, all surrounded by ultramodern mansions perched atop manmade hills. The outer residential area is slated for completion within the next few years. The estimated total price tag: $2 billion.
At this year's film festival, super-extravagant galas unfolded at Gordon Ramsay's restaurant on the Pearl, Doha's ritzy man-made island; they thumped all night long at the W Hotel downtown and spread out over the artificial beach behind the Intercontinental Hotel, with air-conditioned tents, ice sculptures, endless bottles of wine, and mountains of oysters, cheeses, truffles, and exotic fruits included. Hundreds of industry professionals, filmmakers, and journalists (including this one) were flown business class on Qatar Airways and put up in five-star hotels. It's easy to walk away with the impression that for Qatar, "culture" is an accessorial shortcut to achieving world-class city status, and Black Gold is a damning symbol: The film is showy, bloated, wasteful, spineless, and worst of all, it's not at all community minded in the way Sheikha Mayassa intended.
Not that this was lost on anyone. Black Gold was widely panned, and the poorly organized awards ceremony, with its embarrassing disregard for the festival's "Arab Competition," was a disaster. (The Daily Star's Jim Quilty likened the snub to "asking the guests of honor to eat supper in the kitchen because there was no room at the dining table.") "I'm not saying we should excuse this," said Gilmore. "I'm suggesting that we talk about which lines we should work and give credit to the 30-year cycle. Think about what the independent world has accomplished from, let's say, 1979 to 2009. It takes time."
Gilmore also advises not to dismiss Qatar's efforts too quickly because of money. "If the implication is that Qataris can do whatever they want and buy whatever they need and bring it here — well, that's not how to read it," he says. "They're very careful not to be in that situation." The DFI is currently developing new projects (including a collaborative animated version of Khalil Gibran's The Prophet, produced with Salma Hayek, that sounds promising), and it awards grants and offers education and guidance to dozens of local filmmakers. As Gilmore explained, "You have different agendas: One is a commercial agenda, and one is a cultural agenda. One is not more important than the other; you have to merge them very carefully."
If you're willing to forgive the excess, the complexity of the situation he's describing begins to snap into focus. The initial impulse for most sophisticated Westerners wandering around the "ancient" streets of Katara is to be disgusted by this ostentation, this seemingly desperate and misguided shot at cultural relevance. But visit on a balmy desert evening, and you'll find the promenade packed with local families, couples, and packs of teenagers flying colorful kites, admiring buskers, feasting on Häagen-Dazs and falafels, and dancing to Bollywood tunes. And, seeing movies. "I'm personally a bit off-put by the more opulent facets of this city," said David Fine, the American director of Salaam Dunk, a documentary about girls' basketball in Iraq. "But wherever this money is coming from, it's allowed us to show our film." Added his directing partner, Beau Lewis, "To bring young women from the team out of Iraq and onto the red carpet, many of whom have never left the country, to get them excited about creative filmmaking — I can't see anything but good in that." 
Even if a cynical person thinks the festival's main purpose is to show off to the world, it is still bringing cinema to the city residents, which is hard to criticize. "Opening up is not easy," said Zeneddine. "We have stereotypes and clichés to break. Look, it took years for the States to be created. We're young countries that need to grow up, and that takes time. Money just catalyzes that process. Whether people like everything that comes with it — I certainly have issues with the fake islands, for example — we are still able to do good things with it . Every country is striving for money, and people are disturbed that small, ambitious countries are achieving their goals. Why do you want to punish others just because you don't have the capital?"  
If we look back a decade, the early years of New York's Tribeca Film Festival were also rocky, despite noble intentions, and the fest developed a reputation as a star-studded extravaganza with film lineups of uneven quality. But Tribeca eventually did go on to critical (and commercial) success: A decade later, it's one of the city's premier cultural events, fulfilling the original goal of bringing residents together and getting them excited about movies. And in many ways, that's far more vital in the creative process. Ultimately, what money can buy — the artsy "villages," the over-the-top festival galas — has no real value without genuine artistic curiosity and an open-minded spirit behind it. Those qualities absolutely cannot be imported; they must come from within. And money does help give the forum for these creative ideas to materialize. One of the final screenings at the festival was a series of Made in Qatar short films at a theater in Katara. The room was packed, and the excitement was palpable and infectious, even if the films and the festival itself weren't quite there yet. Just give it a few years.
This post has been corrected to note that Geoffrey Gilmore is former director of the Sundance Film Festival, not founder of the Sudance Institute.