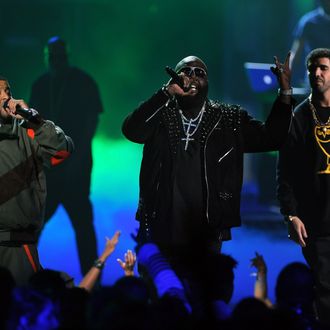 Photo: Kevin Winter/Getty Images
After yesterday's Take Care leak, the Week of the Sweater Lord marches on with two Drake-related collaboration updates. First, the bad news: that rumored Watch the Throne–style collabo with Lil Wayne has been shelved indefinitely. This is a bummer. Now, the good word: Drake is making a mix tape with Rick Ross! Not a bummer! The project is called Y.O.L.O. (You Only Live Once), and it will hopefully take after the delightfully bombastic "Lord Knows" off Take Care. Finally, just because we didn't get to it yesterday, Drake has some Internet thoughts (from his own blog) that he would like to share with the group. Take it away, Drizzy:  
"I'm really scared for my generation, you know. The thing that scares me most is Tumblr. I hate what Tumblr has become. Because it like, it reminds me of those clique-y girls in high school that used to make fun of everyone else and define what was cool, but in five years, when you all graduate, that shit doesn't matter. No one gives a fuck about that shit. Instead of kids going out and making their own moments, they're just taking these images and living vicariously through other people's moments. It just kills me. Then you'll meet them and they're just the biggest turkey in the world. They don't actually embody any of those things. They just emulate. It's scary man, simulation life that we're living. It scares me."
All together now: Draaaake. Cheer up, Drake.