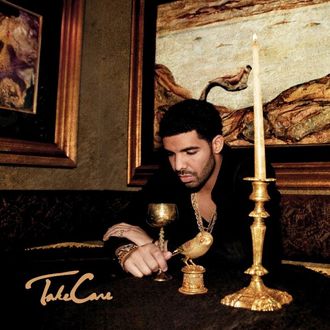 Drake, Take Care
Official Release Date: November 15
Late last night, an ever-polite Drake took to Twitter to acknowledge the leak of his sophomore album, Take Care, a week before its release date. "I am not sure if the album leaked," he wrote (translation: "Oops, my album totally leaked"), followed by a kind, "Listen, enjoy it, buy it if you like it…and take care until next time." Drake, considerate even in times of crisis!
With Drizzy's blessing, then, let's share a few initial thoughts on the intensely confessional Take Care. This will come as no surprise to anyone who's heard "Marvin's Room," examined the album's cover art, or simply read a Drake interview in the past three months, but the guy really has some concerns. Our early vote for the harshest song is "Doing It Wrong," on which Drake sings about a drawn-out breakup and manages to make a Stevie Wonder harmonica solo sound depressing, but there are a number of contenders: "Marvin's Room," of course; Andre 3000's verse on "The Real Her (complete with an Adele shout-out); and "Look What You've Done," a thank-you to his mom and uncle that should be heartwarming but is weighed down with anxiety. (Is that his grandmother on the voice mail at the end? She calls him Aubrey! It is sweet and heartbreaking, all at once.)
To be fair, it's not all depressive, sit-in-the-corner-and-cry rap. "Take Care," the much-anticipated Rihanna collaboration and an early standout, builds on a uptempo Jamie xx sample (his remix of Gil Scott-Heron's "I'll Take Care of You") and discusses a relationship that could maybe, possibly work out (with some healing); "Crew Love," featuring the mysterious Weeknd and his glorious falsetto, at least talks about Drake having a lot of friends. "Lord Knows" is a total departure, with a giant opera chorus and Rick Ross rapping about yachts and mink coats and "Murder-cedes Benzes," etc. But the empty, melancholy sound from "Marvin's Room" and "Trust Issues" (the latter not included on Take Care) extends through most of the album, so that even when Drake is rapping about happier things — being really famous, having a lot of money, hanging out with all his friends in Toronto — he still sounds uneasy. Case in point: "Practice," the glummest version of "Back That Azz Up" you ever did hear.
A few more stray observations: Drake spends a lot of time half-singing on this album, to the point that it feels more like an R&B album at time. And the leak is apparently missing one track, "The Ride," another Jamie xx contribution that might cheer things up a little more when it drops next week. Finally, a relevant verse, from the otherwise bombastic "Lord Knows": "I'm hearing all of the jokes, I know that they tryna push me / I know that showin' emotion don't ever mean I'm a pussy." Deep breath, everyone; it's totally cool to feel this much. Drake said so.