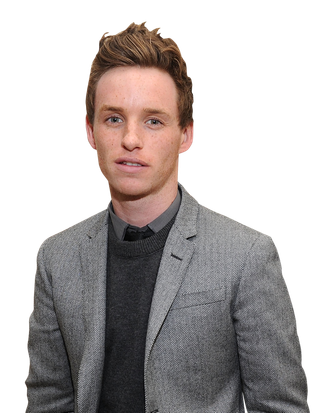 Eddie Redmayne.
Photo: Jason Kempin/Getty Images
Most of the Oscar buzz surrounding My Week With Marilyn concerns Michelle Williams's portrayal of Marilyn Monroe. But the movie very much belongs to Eddie Redmayne as production assistant turned Monroe confidant Colin Clark, who falls for her on the set of her 1957 film The Prince and the Showgirl. Compared to the sort of shenanigans Redmayne usually gets up to onscreen — sleeping with/killing his mother in Savage Grace or thwarting the Bay of Pigs invasion by disclosing state secrets in The Good Shepherd — his role as "young man with a crush on Marilyn Monroe" is refreshingly innocent. Vulture spoke with Redmayne (who was subsequently cast as the romantic lead Marius in Les Misérables) about going meta for Marilyn, the challenges of being a colorblind actor, and his co-star's Dawson's Creek past.
What was it like, making a movie about a movie?
That was one of the intoxicating qualities about this film, the meta quality of it. You've got Kenneth Branagh as this extraordinary polymath [Laurence Olivier], the most amazing theater actor as well as film actor as well as film director. And then we're shooting in Pinewood, shooting in the specific studio where they shot The Prince and the Showgirl, and Michelle was in the same dressing room that Marilyn Monroe used. And then there's Parkside House, the actual house Marilyn stayed at with Arthur Miller. There was a weird eeriness to it that was wonderful, and it was certainly meta.
And your character also takes Marilyn to his old school, Eton, which is especially weird because you went to Eton in real life.
It was incredibly bizarre. Michelle did this thing where she — quite spontaneously — improvised this kiss. She kissed one of the schoolboys, and he blushed. That's a real moment in that scene.
Did you ever geek out over Dawson's Creek?
Unfortunately, I admitted to Michelle pretty early on that I was a big fan, so I didn't have to skulk around in embarrassment. I feel like every generation has their own teen-angst program. For my little brother, it was The O.C, and for us, it was Dawson's Creek. And to this day, I hear that theme music and it brings me back to the memories of being 16, 17, feeling all melancholic and teen angst.
Can you play the theme song on the guitar? You play guitar, right?
I have several guitars, but I can't play any of them. [Laughs.] I think maybe I've composed one or two songs with the same exact three chords, and then I realize maybe it's about time to put down the guitar and move on to the ukulele.
Like Ryan Gosling?
Ryan Gosling does play the ukulele, and he plays quite well, which I don't. [Laughs.] Maybe if I keep trying. He plays it in Blue Valentine, which is the best film I've seen in the past ten years. God, isn't he good in that? He's amazing, Ryan Gosling. He is genius. They were both extraordinary, Ryan and Michelle, but there's something about that film that makes you feel as if you're the only person who's ever felt that way, and now suddenly it's articulated. If you have one moment like that in a year — either through an art exhibition or theater or a movie — it's enough to keep you excited or content with the idea of being human. Know what I mean?
You do so much period work, but are you trying to inch your way back toward modern-day pieces by playing a meth addict pedophile in Hick [opposite Blake Lively and Chloe Moretz]?
It's not even modern yet. It's in the eighties! The irony is that the first film I ever did, Like Minds, was a properly contemporary film, and ever since then, I've been thrown straight back to the sixteenth century. I'll get back to the modern day, one day.
Next you've got Richard II to do, right?
Exactly. I'm in the middle of memorizing it. I'm having a session with [director] Michael Grandage, and I'm meant to have all of this memorized. [Whips out the book, flips through pages of highlighted passages of dialogue.] Doesn't it look hard? Let me show you exactly where I'm at. I've got to about here [points to a page about halfway through], and the rest has to be learned in a week and a half. But it just sits in my back pocket making me feel guilty. [Laughs.] That's what's been keeping me up at night. What I love about this, though, is that Daniel Day-Lewis and Ryan Gosling have to learn lines, too. Do you know what I mean? However genius Ryan Gosling is on the ukulele, however brilliant other people are, it's reassuring to know that even Ben Kingsley has to walk around his room learning lines. It's the great leveler.
The last time you worked with Michael Grandage, you won an Olivier award in the U.K. and a Tony in the U.S. for the play Red. Given that you're colorblind, do you ever find it odd that you do so many films and plays with a color in the title?
I know! You're the first to point that out. Let's see: Red, The Yellow Handkerchief, Elizabeth: The Golden Age, Powder Blue, Black Death … I need to find another film to complete the rainbow. Note to self: Must get more scripts with colors. [Laughs.] It's a weird thing, and it's hilarious sometimes. You know when you're supposed to hit a mark? They often put a red thing down on the ground, and if it's on green grass, I'm looking towards the other actor, trying to find out where the mark is. Sometimes I forget to tell people, and that's always disastrous. I'm wandering off the set somewhere.