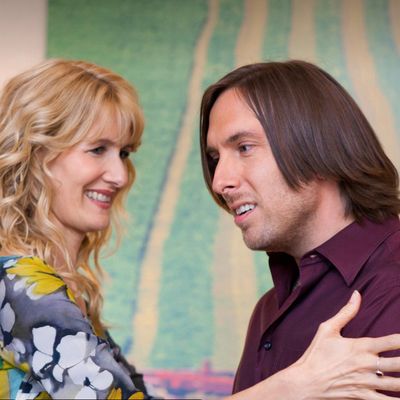 This program arose from two things: Mike White's interest in telling a story about a mental breakdown, inspired by his own experience, and Laura Dern's interest in telling a story about activism, inspired by the 2008 Obama campaign. That the United States in the fall of 2011 has also been the setting for an activist movement on a scale not seen in many, many moons means that Dern's idea makes even more sense and is suddenly more embraceable. Plus, White and Dern are melding their visions in a way that is actually working. This eighth episode deals with activism the most, and abandons the obnoxious and catty and self-righteous aspects of having a cause, like those witnessed during Krista's baby shower a few episodes back.
Amy's display about WAA then was out of control, because no one wants someone else's cause shoved in their face, especially in a setting like that. And yet a certain amount of push is required for people to realize that a cause is worth doing something about, either for someone else's benefit or for their own. There's a time and a place: that was the lesson last time, and now Amy seems a little more clear on what's needed to make other people get involved. But still, not completely clear. For her, the time is now.
She comes in to the office late again after being particularly taken with a group of hotel workers she spots on her drive in, who are holding a protest over wages. "Oh my gosh, I'm totally late," she says to Tyler, then excuses the behavior by telling him about the protest. "Seemed like everybody was having fun," she adds, in her characteristically bouncy, grinning way, and Tyler narrows his eyes at her, still smarting after last week's brush-off.
But now Amy is going to be victimized the same way the hotel workers are (or so she might think): As punishment for being late, Dougie assigns Amy an enormous stack of data to enter into the computer. But Tyler explains that the real reason she's been given an impossible amount of work is because she told Harper last week at Bank that she would be "a fucking idiot" if she dated Dougie, since, quick recap, Dougie ignored Harper to dance with Amy, then groped her ass for quite a long time. But never mind all that (for now). In a trademark Amy move of pivoting from one conflict to a different (but related) conflict she might have a better chance at solving, Amy decides to find out what they're all "really" doing at Cogentiva. This drives Tyler and Connie (Bayne Gibby) — the Cogentiva employee with the least patience for Amy — crazy, and understandably so. There's nothing worse than a lazy co-worker dragging down a group of already frustrated and unfulfilled people.
She finally gets Omar (Jason Mantzoukas, underused here) to tell her what exactly the data represents and what the point of it is. It turns out that Abaddonn tracks employees' every move by having them punch in and out any time they do anything — start a task, finish a task, go to lunch, go to the bathroom — allowing the higher-ups to have really concrete and empirical reasons for firing people when they do inevitably (and, it would appear, hastily) fire people. Who better to organize this endless stream of data (no surprise that the computers can't do everything), than the company's bad seeds? It does take on an insidious air. "It's all about saving money for the company," Omar explains perkily. When Omar tells Amy that Dougie is actually one of the creators of the software, she's not all that surprised. "He's no monkey," Omar says. "No," Amy snaps. "He's a fucking fascist mastermind."
Meanwhile, Dougie has reported Amy to their superior Judy for being unproductive and always late (but mostly for giving Dougie a date in the form of Harper and then taking that date away). Judy, we can assume, has just a little more sympathy for Amy than Dougie because Amy took her out to dinner in episode five. In practice, the dinner was ridiculous and awkward, but the gesture of it has likely had a ripple effect, and that's the kind of goodwill Amy is going for: initially uncomfortable, because surprising, and eventually appreciated, aging over time like a fine wine. Though Amy sounds a bit like a teenager relaying the groping and associated drama that occurred at Bank, it turns out that the groping is more than just a way for Amy to explain Dougie's frustrations with her: It's grounds for a sexual harassment investigation. This is convenient, but Amy quickly feels terrible about the whole thing and tries to put a stop to it as Dougie, Connie, Tyler, and others are asked to come talk to Judy so they can hear whether Dougie has committed groping or other indecencies in the past.
Amy goes to Krista, unwilling savior, to see if Krista can get her a meeting with Damon and get her the hell out of Cogentiva. Krista, doing her usual gawk at Amy like Amy is a spectacle, not a person, definitely not a friend, promises she'll talk to Damon. We see through that placation even if Amy doesn't. She's not talking to Damon. Soon enough, Amy finds Damon herself and gives him the Abaddonn-incriminating printouts she tried to give to Judy so many episodes ago. He says he hasn't spoken a word to Krista about her and can't have a meeting with her, but will look at the printouts. Progress. But progress shall be delayed for a moment so that Amy can go bitch Krista out, this being perhaps the first time that I'm fully behind an Amy outburst. It won't help anything, but it's going to feel so great.
It actually doesn't. Because in the middle of this spat, Krista has to go into flight mode and call Amy "crazy" in the courtyard while everybody is eating lunch. Amy feels. Is confused. Is passionate. Is a busy-body, fine. Krista, not one for confrontation, is afraid. She seems to live her life through inaction, with caution, hoping to get through things and succeed just by looking down at the ground and walking at a reasonable pace. Doing everything right. Doing everything in a way that her parents would appreciate, maybe.
But there's some karmic pixie dust in the air, because while this is going on Connie is telling Judy and company that actually yes, Dougie has harassed her in the past. So instead of firing Amy, Abaddonn meets Dougie and Amy in the middle. Both get warnings. Amy hugs Dougie. He stiffly hugs her back. Amy is convinced the guardian angel in all this is Tyler, but finds out at the end of the day, in the quiet sprawl of the Abaddonn parking lot, that it was actually Connie. Bitchy (but really just trying to be productive in the office) Connie! Driving home, Amy sees the hotel workers are still there (imagine that), protesting. Instead of just beeping her horn in solidarity like she did that morning, she gets out, grabs a picket, and starts chanting. Instead of trying to get other people to commit to WAA, for now she can just commit wholeheartedly to this, this other people's cause, with the knowledge that maybe soon Connie will be ready to join WAA.
It's a wonderful feeling. But. Will the ebb and flow of Krista and Amy finally ebb to the point of drought? We might wish it would, but Amy is too persistent. Too invested in everything around her. Not one for cutting her losses, any of them. It's as if now, we can actually rely on Amy to get that friendship (or "friendship") back on track. It's as if now, Amy is actually the one who will eventually make everything okay.