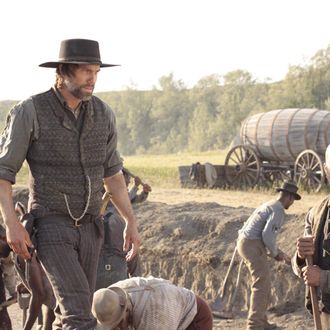 Hell on Wheels.
Photo: Chris Large/AMC
Critics didn't wholeheartedly embrace Hell on Wheels, but viewers were definitely curious to check out AMC's latest drama offering: Sunday's debut notched a strong 4.4 million viewers, per Nielsen, making it the second-best debut ever for an AMC series premiere (The Walking Dead remains the champ). Western-themed TV projects tend to skew a bit older, but Hell did swell with the ad-friendly adults 18 to 49 demo: AMC says it attracted a 2.3 rating at 10 p.m. (or 2.4 million adults under 50). That's better than network slot rivals CSI: Miami or Pan Am, and higher than the most recent episode of FX's American Horror Story.
Of course, it helps that Hell airs behind AMC's megahit The Walking Dead, which Sunday drew 6.3 million viewers and 4.3 million viewers aged 18 to 49. That means Hell lost about 30 percent of its lead-in, but given how huge Dead is, it's a solid retention rate. Still, it's too soon to declare Hell a hit. Last year, AMC's Rubicon debuted as the network's biggest-to-date series premiere and still ended up dead after a single season. What the big numbers for Hell might demonstrate, however, is that despite lots of media noise the past year or so, the AMC brand remains strong enough to convince folks to at least sample its newest offerings.