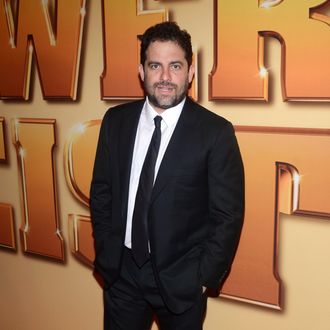 Brett Ratner, in more employed days.
Photo: Andrew Toth/? Patrick McMullan
Late yesterday afternoon the Academy of Motion Picture Arts and Sciences announced that Brett Ratner had withdrawn from his job producing this year's Oscars; in the press release, AMPAS president Tom Sherak wrote that "He did the right thing for the Academy and himself." Vulture has learned that while the AMPAS Board of Governors had decided that morning that they needed him gone, they desperately wanted him to resign as opposed to being fired. The leadership group met early Tuesday and, in conference with the Academy's executive committee, discussed Ratner's ever-increasing portfolio of wrongheaded comments ("Rehearsal is for fags"; he had Lindsay Lohan checked for STDs before deigning to sleep with her, etc.). The group unanimously decided that Ratner had to go. "[The AMPAS board] were all appalled," says one person present at the meeting. "There was a consensus. It was, 'He needs to resign.' And it was important that he resign, that we not have to fire him. But then, at the officers meeting this morning, before we could call him to tell him to do it, Brett called to resign. I don't think we would have fired him; I think it was better that he resigned. But the writing was on the wall."
Just a day before that, on Monday afternoon, Sherak had stood by Ratner in an interview with Deadline, saying "We all make mistakes," but cautioning that "The bottom line is, this won't and can't happen again. It will not happen again." At that point, however, he was unaware that it already had; that morning Ratner had regaled Howard Stern with his Lohan tales. Says our source at the Academy meeting, "When Tom wrote that first [statement] about Brett 'making a mistake,' he didn't know about what Brett had said on the Howard Stern show. But what we're all learning in life is that when something just went viral, it's very hard to stop. The Academy Awards can't be about the producer calling someone a 'fag.' What you want from any [Oscars] director is for everything to fade into the background. When the producer of the show is getting more attention than the show, you're lessening the show."
Now everyone is wondering whether Eddie Murphy will remain as host without Ratner. In a recent Rolling Stone article, Murphy said, "I only want to do what I really want to do, otherwise I'm content to sit here and play my guitar all day. I always tell people now that I'm a semi-retired gentleman of leisure, and occasionally I'll go do some work to break the boredom up." It makes one wonder if seeing his Tower Heist director vanish will make the Oscars fall into the category of things Murphy doesn't "really want to do." One well-placed Academy member intimately familiar with the Oscar telecast explains to Vulture that the odds of Murphy remaining as host have now dropped to even money, because now he can step down with minimal PR damage: "It's like when Mike Nichols asks Meryl Streep to do a movie, and then suddenly, Mike Nichols is not doing the movie anymore," says our source. "There's no reflection on her if she then steps away from the project. But [Murphy] would have to do it fast, before a new producer is named. Otherwise, that's just, well … that's just shitty." (UPDATE: And as of this afternoon, Eddie Murphy has indeed quit.)
Now the Academy must scramble for a new producer, a difficult proposition. "They're in a real fix," says this member, "It's not a 9-to-5 job; it's a 9-to-9 job, for two months straight." And many of the top producing veterans aren't an option: Bill Condon, who produced the telecast in 2009, would likely make his Dreamgirls star Eddie Murphy happy, but the director will probably be too busy editing the Twilight finale, Breaking Dawn – Part 2, to take on the show. And two of the other most practiced Oscars producers recently passed: Gil Cates, who produced fourteen ceremonies between 1980 and 2008, died late last month, and Laura Ziskin, who produced both the 2002 Oscars and the 2007 Oscars, passed away in June. "I wish Gil Cates were still here to rescue it," says our Academy source. "He would have. I do know they're talking to New York theater folks again. After all, that's what the Oscars is: a spectacle. Maybe having Cirque du Soleil produce wouldn't be such a bad idea." Something tells us that Murphy, who also told Rolling Stone that he doesn't "have any interest in [doing family movies] right now," won't be thrilled about the idea of doing an opening number with Canadian clowns.