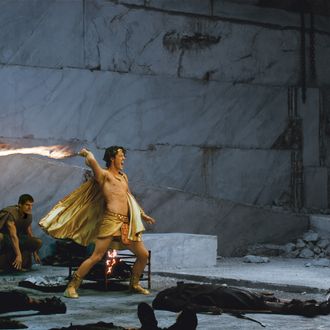 Photo: Courtesy of Relativity Media/? 2011 War of the Gods, LLC. All Rights Reserved.
Last week, we asked the denizens of Mount Vulture (hang a left at Olympus, and walk until you hit the Internet) to invent a new, pop-culture-based god or goddess, in the hopes of winning a Sony Bloggie 3-D video camera. As always, you, the witty commenters, delivered. Thanks to everyone for playing, and congratulations to "sassblckneighbr," who came up with the winning response. Your new Pop Culture God is …
Orion Godsling , God of peace, crazy-stupid-love and scorpion jackets.

Superpower: the ability to squelch epic battles with his Tank Top of Tenderness and his ManCapris of Compassion. Also has the ability to hypnotize and inspire devotion in the masses with images of himself and Cerberus Minors (also known as "puppies")
And a few Honorable Mentions, who can hang out in the Pantheon with Godsling:
BFG 110:
Serenus VanDerWhoopsIs, A goddess immune to regret and self-awareness.

Superpower: Ability to feel emotion for as long as it takes for a costume or scenery change. Aided by her magical closet, Serenus has been known to cause devastation in her tracks without the slightest feeling of responsibility. Can cause those around her to forgive and move forward - always guaranteeing she will strike again.
brandoninargyle:
Deschanela: Two-headed Goddess of Adorableness.
Superpower:  the ability to seduce any male who looks directly into her four Doe eyes. Bonus power: Deschanela's siren song causes ship captains to go lost at sea.
brownbirds:
JJ Abramnemosyne: God of nostalgia.
Superpower: Causing feelings of love for ideas you swore you would never care about again.
labouche:
MaggiSmithius: goddess of disapproval

Super power: delivers death with daggers of disdain and barbed quips
Thanks again to everyone.  All hail Orion Godsling, King of All Things Vulture!