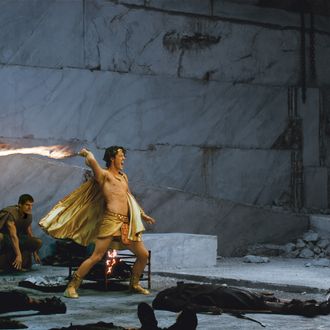 Immortals.
Photo: Courtesy of Relativity Media/? 2011 War of the Gods, LLC. All Rights Reserved.
Immortals, the mythological adventure that comes out tomorrow, is a 3-D battle of the Greek gods, with Mickey Rourke's King Hyperion rallying an army of fallen deities to do battle with the upstanding gods who are following the mortal Theseus (Henry Cavill). Ahh, those were the polytheistic days, when there were enough gods to staff an army! Now we've just got, what, one? At the most? So maybe it's time to dream up some new Vulture gods, who would do battle across the pop-culture landscape. We want to hear your suggestions, and the best one will win a Sony Bloggie 3D video camera!
By the might of Zeus' surcharge, a 3-D camera? you say. How do I win? Simply invent your own modern god or goddess (whether good or evil) based on a celebrity or other pop-culture touchstone and name his or her superpower. For example:
Bieberion, goddess of teen music sensations. Superpower: Able to protect young stars from the ravages of puberty and paternity suits.
Terranovus, god of illogical TV. Superpower: able to protect people from giant flying dinosaurs with a twenty-foot-tall wooden picket fence.
Julieus Taymoria, goddess of stubborn theater directors. Superpower: Ability to remain in the spotlight for something that most people would slink away from.
So once again, dream up your own God of Things Vulture, and describe it and its superpower in the comments below. We'll stop accepting entries at 8 p.m. tonight and will announce the winner on Monday, November 14. He or she will be able to pray at the altar of their own new 3-D video camera, courtesy of Immortals. (Complete contest rules can be found here.) Good luck!