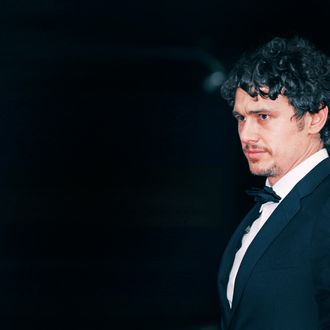 James Franco.
Photo: Pascal Le Segretain/Getty Images
This Sunday, James Franco and P.S. 1 haute-art star Laurel Nakadate will grab a Ouija board at New York's Abrons Art Center and try to contact the spirit of dead playwright Tennessee Williams. (It's all part of the wacky yet prestigious Performa 11 art festival.) Of all the dead people in the world, why Williams? Explains Franco, on the phone from Detroit, where he's shooting Oz: The Great and Powerful: "He's a wonderful example of someone who's taken their own experiences and transformed them into art." Well, that certainly sounds familiar.
In the performance art world, Franco is known for doing pieces that are at least tangentially about himself as actor and movie star (witness the great ongoing General Hospital experiment). Ironically, he's now veering away from that to craft a piece on someone else who had the same predilection. "When I create work solely from myself I get bored with it, I don't work as hard, I don't give my ideas as much patience or respect," he explains. "Using other people's work as a source pulls me out of myself, pulls me in new directions." 
However, for all his talk of the piece (called Three Performances in Search of Tennessee) not being about him, it will still reflect the world of fame in which he walks. "What interests me is making a play between living and dead, art world and artist, barrier breaking," he explains, in serious professor mode. Right after the "spirit calling" on Sunday, Franco and Nakadate will host karaoke-style open "auditions" for roles in Williams's semiautobiographical The Glass Menagerie, with Franco himself playing a big part. "We're examining certain aspects of celebrity," he says. "In the context of our play, the guest performers will be themselves and characters in the play." The audience auditioners will be performing scenes karaoke-style with a pre-filmed projection of Franco reading the Menagerie role of the Gentleman Caller; he will also be on hand to judge these walk-ons. From his explanation, this all sounds like an elaborate exploration into the distinction between artist and observer — but could it also just be an elaborate excuse for him to reach Williams to apologize for pulling out of plans to star with Nicole Kidman in a fall Broadway revival of the playwright's Sweet Bird of Youth?
Three Performances in Search of Tennessee will be performed this Sunday at noon at the Abrons Art Center ($30), but will also be broadcast starting Monday on Paddle 8, an online art sales website.