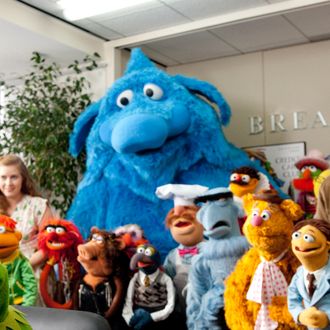 Scene from the new Muppets movie, starring Jason Segel. (Courtesy of Disney)
Photo: Patrick Wymore/?Disney Enterprises, Inc. All Rights Reserved.
How I Met Your Mother's Jason Segel hosted Saturday Night Live yesterday and was immediately joined onstage by most of the Muppets cast for a rendition of "Oh I Can't Believe I'm Hosting SNL." Seems the whole fuzzy gang still has a lot of audience appeal, as SNL posted some of its highest ratings of the season so far, with a 10 percent spike in viewers ages 18-49 compared to last week's episode, hosted by all-around class act Emma Stone. Hopefully the Muppets have a similar effect on the newsstand — New York's gift issue, out right now, has a Santa-bedecked Miss Piggy on the cover.