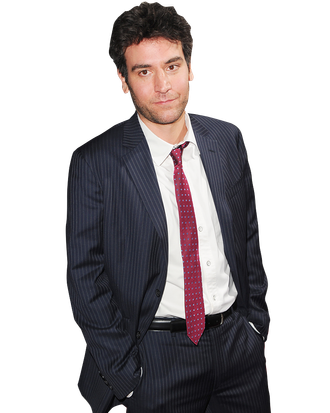 Josh Radnor.
Photo: Alberto E. Rodriguez/Getty Images
He is best known for playing the lovelorn and needy Ted Mosby on How I Met Your Mother. But when we caught up with Josh Radnor at last night's Gotham Independent Film Awards, we were reminded: He has a movie career going for him, too, albeit a more granola, less big-budget one than his TV co-stars Jason Segel and Neil Patrick Harris. He spoke with Vulture about his next film, which stars one of the evening's nominees, Elizabeth Olsen (who lost to Felicity Jones in the Best Breakthrough category), why he didn't make an appearance in The Muppets, and what he thinks of the Wood-man.
You wrote your second film, Liberal Arts, and already shot it, right?
Yeah, I already shot it, edited it. We're just putting the finishing touches on it now.
What did you learn from the Happythankyoumoreplease experience?
That I really like directing and I should do it again. But I didn't learn enough to not put myself in it a lot, and now I've learned that lesson.
So the next one you won't be in?
The next one I'm going to do my best to either not appear, or give myself just the smallest cameo.
You cast Elizabeth Olsen, who kind of broke out in Martha Marcy May Marlene. Did you see that first?
I gave 42 pages of the script to my agent, and she said, "I have your girl. Her name's Elizabeth Olsen; I just signed her." And then we met, and she was just perfect for the role, so it was long before that all happened. She had already shot [MMMM], but I hadn't seen it.
Happythankyoumoreplease brought up some comparisons between you and Woody Allen.
Were you the one that made those? [Laughs.]
No. But there was also recently an episode of HIMYM where Woody Allen was referenced; your character couldn't date a woman who didn't like Annie Hall.
Oh, yeah! That's correct. And we broke the fourth wall, right? I remember it fondly.
Was that your story line idea?
No, no, no. That's the writer's stuff, that wasn't mine. But I was happy to be a part of that.
Would you date a woman who was like Annie Hall?
Would I? If I could find one, sure. You got one? I just watched the Woody Allen documentary, the first part of it. Did you watch it?
Yes, I saw some of it.
I just watched the first half, and it was amazing. I can't wait to watch the second part.
You're working on these projects, Jason Segel did The Muppets. How do you all fit these in along with HIMYM?
We're so up-and-running on the show that we come in, we have a great time, and then we go home and, you know, do these other projects. And I think everyone's feeling really fulfilled by both doing the show and getting the opportunity to do this other stuff.
Why didn't you have a Muppets cameo?
I didn't ask. Neil [Patrick Harris] begged; I didn't.
Neil begged?
Yeah, he did. I don't know if he begged, but he wanted to do it.
So you didn't want to do one?
It just didn't occur to me to ask. [Laughs.]
In a couple of recent episodes of the show, you had a good tan.
I don't have a tan, and I'm not out in the sun, and everyone tells me I have a tan.

Had you been on vacation or something?
[To his publicist] Had I been on vacation?
Publicist: Not that I'm aware of.
No. Kill this story!