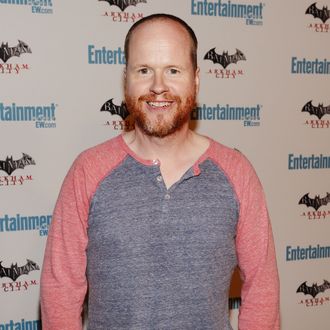 Joss Whedon.
Photo: Michael Buckner/ Getty Images/2011 Getty Images
Joss Whedon's a guy who can make a Shakespeare movie in the span of a few days but is still all wistful about the Wonder Woman movie he never got to make. Buck up, Joss Whedon! You got to make The Avengers and be the king of the Internet. He told Rookie that his Diana was "a little bit like Angelina Jolie" (which he's been saying for a while). "She sort of traveled the world. She was very powerful and very naïve about people, and the fact that she was a goddess was how I eventually found my in to her humanity and vulnerability," he says.
"She would look at us and the way we kill each other and the way we let people starve and the way the world is run and she'd just be like, None of this makes sense to me. I can't cope with it, I can't understand, people are insane." How slightly Buffy-ish! And that's how the goddess came to love an ordinary human. "Ultimately her romance with Steve was about him getting her to see what it's like not to be a goddess, what it's like when you are weak, when you do have all these forces controlling you and there's nothing you can do about it. That was the sort of central concept of the thing. Him teaching her humanity and her saying, okay, great, but we can still do better." Wonder Woman as bleeding-heart humanitarian? Aw, actually, that sounds kind of great.