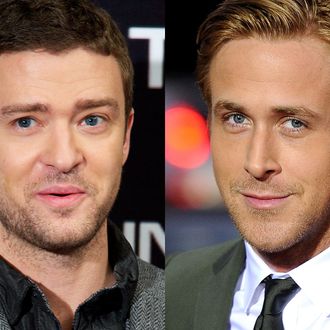 Once upon a time, before 'N Sync and The Notebook, Justin Timberlake and Ryan Gosling were just two kids dancing around on The Mickey Mouse Club in oversize silk pajamas. (We're all familiar with this video, right? Take a moment, if you're not.) Occasionally, one of the two will share an anecdote about their time together, and it's usually adorable, bromance-y stuff: stealing golf carts, eating ice cream, crashing on each other's couches. Today, though, Justin Timberlake strays from the script a little. From GQ's Men of the Year interview with JT and Jimmy Fallon:
Jimmy Fallon: Dude, I was just talking to [Ryan] Gosling about that. Did Gosling really live on your couch when he was a kid?

Justin Timberlake: So he tried to make it seem like he was bohemian even back then?

Jimmy Fallon: Definitely, man. He said he was struggling and you helped him out.

Justin Timberlake: Ryan's mom had to stay back in Canada and my mom was his guardian for a year so he could come down and be on the show. But Gosling got his own bed. He didn't sleep on the couch. He said that?

Jimmy Fallon: It's a better story!

Justin Timberlake: I'm picturing a ten-year-old Gosling bumming Marlboro Reds off some bum, growing hipster facial hair…
Justin! Didn't you read the memo?! Don't question the accent; don't mock the jacket; never, ever put a bro on blast. The Serious Actor Club has expelled people for lesser offenses. Just stick to the 10-year-old thug life stories, okay?