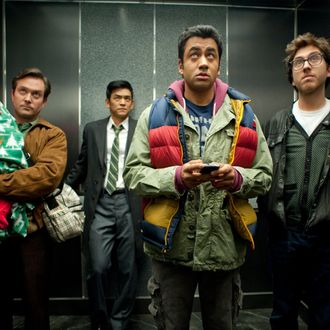 (Courtesy of Warner Bros.)
Photo: Darren Michaels/? 2011 New Line Productions Inc.
About two weeks ago Kal Penn spoke to Vulture about his (lack of a) real-life drug problem. "It's true, I don't smoke weed," he said. "That's not something that I generally offer up in terms of talking points about [A Very Harold & Kumar 3D Christmas], because there are a lot of stoners that like the movie and you never want to make them feel like something's disingenuous." Interestingly, his stoner character in the movie series never came up when he went for a job at the White House, he told the Times on Friday.
You have to list the jobs you've been fired from, and the two jobs I was fired from were sitcom pilots, because the executive producer didn't believe I was funny enough. So I was looking at these forms like, 'How do I word this in a diplomatic way, because I want to be honest?' And I wrote, 'Fired for not being funny enough.'
Ultimately he got the White House gig — though he is on sabbatical now — and good thing he doesn't have Kumar's particularly relaxing habit, because turns out you can't order delivery to the White House. So, not a good place to have the munchies.