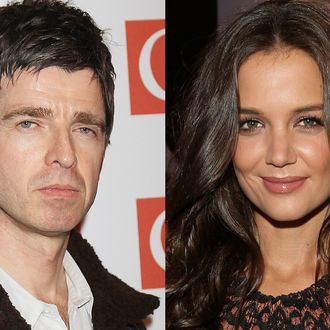 Photo: Chris Jackson/Getty Images, Chris Jackson/Getty Images
First off, Vulture would like to apologize for not previously alerting you to the fact that Noel Gallagher has been blogging from his High Flying Birds tour. This is happening! And as you might expect, given that it involves a Gallagher and unfiltered access to the public, it's pretty amusing. For example, Noel's recap of a recent morning television appearance: "The interview was a little strange … one doesn't expect to be discussing one's pet cat's bollocks (or lack thereof!!! He's had them whipped off, see?) so early in the morning … and certainly not on live TV!" And then Noel's thoughts on Adam Sandler: "cool as fuck." But Katie Holmes, whom Noel ran into backstage at Letterman, did not earn as kind a review:
We literally bumped into that top Scientologist Katie Holmes on the way into the studio. We came out of the lift and BANG, there she was.

Now at this point my mate, and friend of the stars, Scully was doing a bit of filming for my website and managed to capture the moment. She did look a bit miffed at the various North-West accents and some vigorous handshaking, but there was no need to send one of her people over to demand the video be deleted!!!! Un-fuckin'-believable.
Katie Holmes: Team Liam? Liam Gallagher: secret Scientologist?!? Our heads are exploding a little right now.