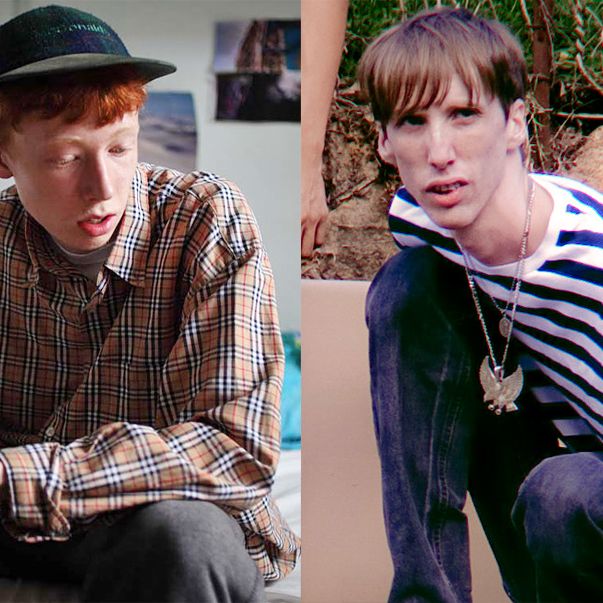 Archy Marshalll, aka King Krule (l) and Bradford Cox of Atlas Sound and Deerhunter.
Photo: Mikael Gregorsky (King Krule), Barry Klipp (Cox with Deerhunter)
There's not a ton to know, biographically speaking, about Archy Marshall, the London kid who records as King Krule. He's only 17 — which would be more shocking if the British arts-education system, including Marshall's BRIT School, hadn't facilitated a whole lot of young wonders in the last decade. The main thing one can say about Marshall is that last year, working under the name Zoo Kid, he released one staggeringly good single, titled after the Basquiat piece Out Getting Ribs: a stark and rumbling voice-and-guitar arrangement, recorded with friends in his bedroom, and possessed of honestly head-turning depth. Marshall's voice was part of that — the deep, lazy croak of someone skulking out of a dark alley — and the accompanying video got a lot of mileage out of connecting that voice with the face of a kid who didn't even look 16 and seemed to be putting on a diffident mug's expression to compensate. (When viewers noted that Marshall looked like an adolescent Rick Astley, it wasn't just because they shared a haircut: There's the same feeling of a voice richer than you'd expect to come out of the body that contains it.)
Marshall's drawling wasn't the main sell, though. It was his electric guitar, tuned to a languid open chord, overdubbed into unstable weaving patterns, and recorded as if it were being idly played in one corner of a massive concrete room. A lot of the music you hear every day, whether from the pop-music world or the underground one, is tightly plotted and built around a strong heartbeat. But "Out Getting Ribs" has all the room in the world in which to stumble and sigh, to sound open and lived-in.
Same goes for Marshall's first EP, self-titled under the new moniker King Krule. The stumbling, it has to be said, has a different character now. "Out Getting Ribs" was likely the kind of perfect thing that happens a little bit by accident, maybe especially teenage accident; the EP, on first listen, has Marshall rambling and less in control, sometimes rickety and wandering. A few more listens, though, and it feels just right, mainly because Marshall's still perfect on mood and depth. He's fleshed his sound out gorgeously with loops, found sounds, drum machines, and keyboards. (See, for instance, "Portrait in Black and Blue.") He skulks back and forth between overtones of lazy jazz and lazy dub reggae, and coats it all in homey, intimate echoes. The laxness of it — the feeling of someone idling around the house with the lights off just after sunset, mumbling with pleasure — is a lot of the appeal. It's almost like the albums Tricky was making in the nineties (minus all the sinister vibes and paranoia): an unmistakable sound that's muzzy, rough-hewn, and enveloping, stitched together from odd parts and all the fresher for its looseness.
Bradford Cox, lead singer of the Georgia indie-rock band Deerhunter, had a very different 16th year than Archy Marshall did: He spent that summer in a hospital, having multiple surgeries related to the genetic disorder Marfan's Syndrome. It's an experience that comes up a lot in his songwriting, both with Deerhunter and with his solo project, Atlas Sound. Or, at least, it's one of many periods of isolation, of life put on hold — dropping out of school, living alone as a teenager — that he's constantly circling in his lyrics. (On his first Atlas Sound record, 2008's Let the Blind Lead Those Who Can See But Cannot Feel, one of the most affecting songs, "Quarantined," revolved around just two lines: "Quarantined, and kept so far away from my friends / I am waiting to be changed."*) It's never taken any huge stretch of the imagination to tie those themes to the actual sound of Cox's bands. For one thing, the styles he tends to work in  —dreamlike washes of guitar noise, hypnotic repetitions, moony electronics — were one of the best products of the indie scene during the exact late-nineties years he spent on his own. For another, each of those sounds is almost purpose-built for getting lost inside your own head, and for the kind of catharsis you find while lying down in the dark.
Judging by Cox's latest work, this all might be changing. Halcyon Digest, the great album Deerhunter released last fall, took a left turn out of monumental noises and into shimmery pop-rock — the band seemed to come down to earth (or at least a few meters closer to it), a move that would have annoyed more of their fans if they hadn't turned out to sound rather good at it. Parallax, this week's new album from Atlas Sound, does something similar. The project has always seemed like Cox's outlet for the kind of layered, womblike, studio-bound sounds that don't work as well for a full rock band; the two LPs before this one were wonderfully thick and woozy. Parallax is clearer: more crystalline and more delicate, more guitars, more swing and energy to its hushed pop songs, more open space around its whispery folk. It's more interested in pop conventions, too: "Mona Lisa" manages to surprise with some summery strumming that wouldn't have sounded out of place in an R.E.M. song.
It's as if the guy's music is stepping out from behind a cloud and seeing what it's like to stand in the light. (Reading recent interviews, you can guess at one thing that might have motivated Cox: Those woozy-stoner sounds have become favorites for a lot of chilled-out indie acts that are less interested in raw emotion than he is. It's possible they've chased him out into new territory.) And it's a testament to how good his songwriting's become that the songs don't feel any less dreamlike for it; somewhere along the way, he's figured out how to get a lot of the same narcotized, under-the-blankets feelings from fewer echoes, and fewer moving parts. Funnily enough, it's the same thing that happened to some of the shoegazing noisemakers Cox was surely listening to as a teen, like Slowdive's Neil Halstead: Somewhere along the line, they start wondering if there's some perfect ideal of a pop song that can carry the same lost-in-your-head feeling that used to come from a gale of sound.
* This post has been corrected to show that Bradford Cox's "Quarantined" was on Atlas Sound's 2008 debut record, not 2009's Logos.