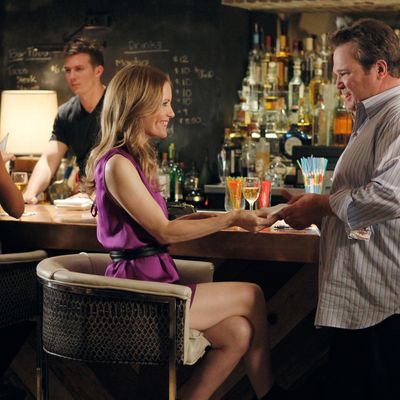 Photo: Peter "Hopper" Stone/? 2011 American Broadcasting Companies, Inc. All rights reserved.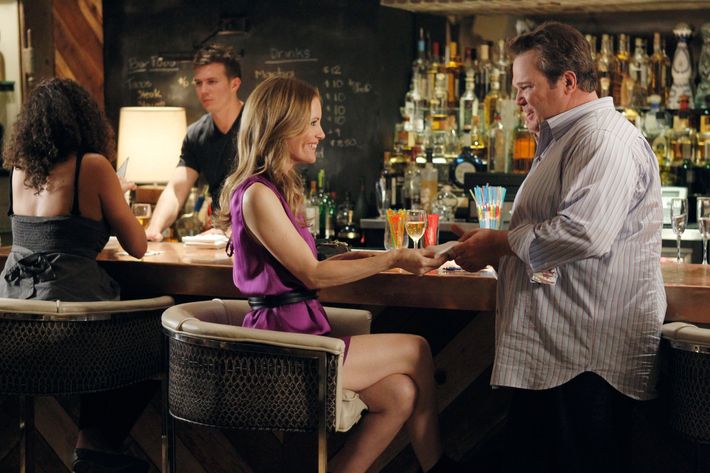 "I mean, I know you're gay. It's obvious. The way you talk and walk and dress, and your theatrical hand gestures." Everyone, prime your gaydars. If the previous episode of Modern Family found Claire cozying up to a man who she only assumed was gay, last night was all about how Cam — television's closest thing to a walking jazz hand — is not exactly equipped to pass as a straight guy. Cam attempts to get in touch with his hetero side while sipping a fruity cocktail at a bar. When a waitress flirts with him and/or trolls for tips (that would be Mitchell's take on the interaction), Cam insists that if he was straight he would totally be a womanizer. Or, "you could be someone who just stepped out of a machine called the womanizer," Mitchell responds. Cam is so sure he can pass (if he were straight and she was single, he and Julia Roberts would be the perfect couple), that he bets Mitchell that he can get a woman at the bar to give him her phone number — a month of laundry duty is at stake.
In less flashy plotlines, the Dunphys face more mundane problems that come from living in the idylls of suburbia. When Haley grapples with a college admissions essay question ("What's the biggest obstacle you've ever had to overcome?"), she, like many a frustrated memoirist, realizes that her life has been too boring and sheltered. (Her friend Gabby's mom is a hoarder, and her essay nearly writes itself!) She's disappointed when Claire informs her that she did not, in fact, have ADD in grade school — she just couldn't A-D-D, or S-P-E-L-L, for that matter. (That's not obstacle enough?) Claire comes up with the perfect solution to cure her coddled daughter: She lures Haley into a car ride to a deserted tree to tell her the deep dark secret of why she and Phil were so easy on her (wait, since when does Haley think Claire was easy on her?), then speeds away the moment Haley steps out of the car. Haley's big obstacle? Having to find her way home. Or "growing up with a crazy mom." Depends on whom you ask. Phil, meanwhile, is intent on building a treehouse for a not-so-enthusiastic Luke. As we know from that pesky, perpetually broken stair, Phil isn't the most handy dad on the block, and Luke is worried about collateral damage ("Dad, I've seen you with a glue gun. I think a nail is gonna be harder to get out of my hair"). But it's not about Luke at all! Turns out Phil's the one who wants to use the treehouse to make some new friends. Lucky for him, Andre the orthopedic surgeon from next door (comedian Kevin Hart), is way into it — or so it appears from the last 90 seconds of the show. Look at that. Phil has a black friend! A, uh, brother from a different mother. We just hope this blossoming interracial bromance will continue to flourish.