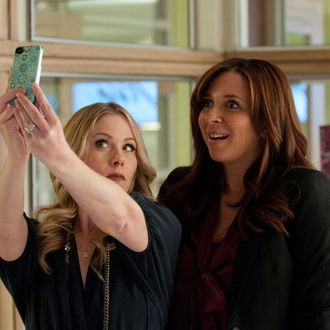 UP ALL NIGHT – "Pilot" – Pictured: (l-r) Christina Applegate as Reagan, Maya Rudolph as Ava – Photo by: Colleen Hayes/NBC
Photo: Colleen Hayes/? NBCUniversal, Inc.
Up All Night got a full-season order not long ago after successfully holding down Wednesday nights, a night where NBC comedies had previously feared to tread. As NBC's reward for their doing well/not being Prime Suspect, Up All Night's received an order for two additional episodes (up from 22 to 24) and is moving to the coveted post-Office spot on January 12, presumably pushing Whitney to Wednesday to hold down the comedy fort (or allow it to fall to ruin). More surprisingly, NBC has scored some success with Grimm, one of their few not-half-hour comedies to avoid going down in flames, resulting in today's full-season order.  Despite being on Fridays, going up against the World Series, and being easily confused with ABC's Once Upon a Time, Grimm has held its ground. The show is also getting a shot at Thursday, but at the not-comedy 10 p.m. slot, on December 8.