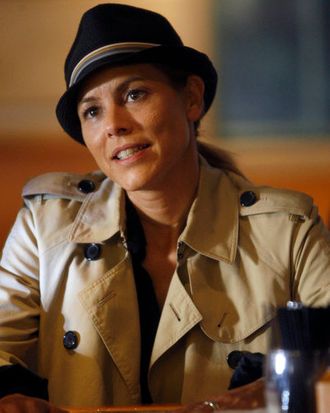 Is this the hat that can save NBC?
Photo: Vivian Zink/? NBCUniversal, Inc.
Times are tough all over, but times at NBC are particularly rough: Viewership has fallen by 11 percent in the 18-49 demographic, and without NFL football, NBC's numbers put it on par with Univision. Yikes. NBC's new Comcast overlords "did not even mention the network on [the company's] earnings call with investors last week," according to the Times, instead touting Universal's cable presence, and for the first time in 17 years, Late Show beat The Tonight Show in four out of the first six weeks of this season. (That's not counting the Conan blip.) So how will NBC win viewers back? With the elusive virtue of patience, apparently. Stephen B. Burke, the network's CEO, says that his job is to "keep everybody in the company from driving the development people crazy," and NBC has upped its development budget in response to its disastrous fall. All the Peacock really needs are more shows like Up All Night, fewer shows like The Playboy Club, a time machine and some kind of culture-bucking device that changes the tides. Or maybe just more episodes of The Voice.