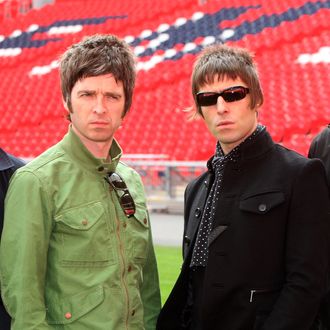 Photo: Dave Hogan/Getty Images/2008 Getty Images
Back in August, Liam Gallagher took his very public feud with brother Noel to court, suing for an apology over some disparaging remarks the elder Gallagher made about the Oasis breakup drama. (Noel said Liam skipped out of a 2009 V Festival performance because he was hung-over; Liam said he had laryngitis.) Noel apologized, Liam dropped the suit, and all was briefly quiet in the House of Gallagher. (Except for the occasional brotherly shit-talking about Coldplay and whatnot.) But now we learn that Noel has filed a "defense of libel" action against Liam, effectively reopening the case in court. And it's predictably spiteful!
Among the allegations, Noel claims that Liam started screaming at him in an airport over advertising for Pretty Green. From the court documents:
Not long after the discussion in Rome, the Claimant provoked a huge row with the Defendant out of nothing when they were waiting in a first class airport lounge. The Claimant's behavior towards the Defendant was very loud, aggressive, and intimidating and plainly a reaction to the Defendant's refusal to do what he wanted in using Oasis to advertise Pretty Green. As a result of this incident the Defendant asked that in future, whenever possible, he be allowed to travel on tour separately from the Claimant.
And Liam left mean voice-mail messages on Noel's wife's cell phone:
He had been tolerating the Claimant's abusive behavior for a long time, even to the extent of the Claimant leaving offensive messages on the Defendant's wife's mobile phone, insulting her and others the Defendant cared about.
And then he goes in on the infamous Guitar Incident:
… physically, swearing and screaming at him; and shouting about journalists and generally not making any sense. Even more alarmingly for the Defendant, the Claimant was physically violent towards him. He went to his dressing room, fetched his guitar, and on returning began swinging the guitar around in the air like an axe, nearly smashing the Defendant in the face with it.
Okay, so this is gonna get ugly again! Just remember, dudes: You have to have this all sorted out by 2015.  Morning Glory Reunion Tour! We believe.