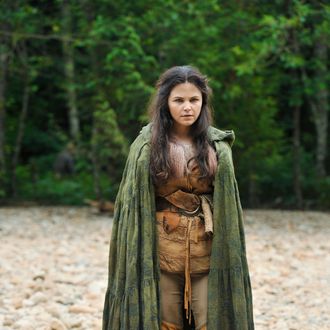 Ginnifer Goodwin in 'Once Upon a Time'
Photo: Chris Helcermanas-Benge/ABC
Mirror, mirror on the wall, what's the most surprising fall success story of them all? A strong case could be made that it's ABC's Once Upon a Time. It overcame mixed reviews and strong time-slot competition from the NFL, The Simpsons, and post-season baseball to score the biggest debut ratings of any new drama over the past two seasons in the prized under-50 demo, and its ratings have largely held up in its three subsequent airings. While we're sure there are plenty of sci-fi geeks and Disney/Grimm Brothers nerds among the show's audience of 12 million-plus, another factor may be driving the show's success. According to Nielsen data obtained by Vulture, there's evidence Once has become a rare must-see for families, bringing adults and kids together in front of the flat-screen in a way that hasn't been done by a scripted show in years. Could ABC finally have found its new Wide World of Disney?
While it's not commonly reported on in the media, one of the dozens of metrics Nielsen gathers each week is something called "co-viewing" — specifically, what percentage of a show's grown-up audience tunes into a program with a kid or teenager also in the room. For example, it's probably no shock that most adults who savor their weekly installment of Harry's Law do so without the company of a legal minor (although, really, what toddler doesn't go gaga whenever Kathy Bates gets all grumpy?). Barely 6 percent of adults 18 to 49 watch Harry's with someone under 18. By contrast, Once has quickly become a blockbuster in co-viewing: An impressive 18 percent of its adult audience has sampled the show with a kid or teen. That not only makes it the No. 1 drama on network TV this fall in family co-viewing; per ABC, Once is actually the most family-friendly drama on any broadcast network in the past ten years. Even including more potentially kid-friendly formats such as reality and comedies, Once does well, ranking as the No. 5 show overall in co-viewing this season, ahead of family staples such as The Simpsons and Glee. No. 1 would be America's Funniest Home Videos, which leads in to Once, with 27 percent of its audience watching with youngsters; it's followed by The Middle (21 percent), Extreme Makeover: Home Edition (20 percent), and The X Factor (18.5 percent average for its two weekly editions).
Once creators Edward Kitsis and Adam Horowitz say they've seen anecdotal evidence to back up the Nielsen data. "I've heard from all sorts of family members and friends who say they're watching the show with their kids," Horowitz says. "They're all finding something that appeals to them." Kitsis says his Facebook wall is filled with posting from friends "saying they're watching with their families." Still, the scribes, previously best known for writing some of the lighter episodes of the often-dark Lost, say they didn't specifically set out to write a "family" show. "Our dream was more to have a big summer movie coming to your screen every Sunday," Kitsis explains. "The stuff that influenced us was Indiana Jones and Star Wars. And even though our favorite filmmakers are the Coen Brothers, we wanted to capture that feeling we had when we first saw the Gene Wilder version of Willy Wonka." Another role model for the writers is Disney's Pirates of the Caribbean franchise: "The movies were cool and interesting but I could bring my nephews," Kitsis says.
And luring in families has strengthened the show in every demo. It's in the top twenty for ages 18 to 49 (the demo ABC cares most about), but also does extraordinarily well with kids and teens. Among princess-obsessed girls 2 to 11, for example, the show is the No. 1 scripted series on TV this season, beating out Glee, The Simpsons, and Modern Family. (Little boys are a bit more wary; they're more avid fans of Sunday football and Family Guy, but still prefer Once over the dinos in Terra Nova or Fox's new little dude toon Allen Gregory.) Among teens of both genders, ABC's fairy-tale adventure is beating Terra Nova, The Big Bang Theory, and The Secret Circle; it's virtually tied with The Simpsons.
While advertisers generally pay more to reach adult viewers than teens or kids, the fact that Once is doing so well in these categories too can only be a boon for ABC. That's because, in addition to mining the big bucks to be found for reaching adults 18 to 49, the network can also compete for a share of the ad dollars targeted at younger folks, money that's mostly been going to cable networks such as MTV, Nick, and ABC's sibling, ABC Family. It also opens the door for the Disney-owned network to use Sunday nights to exploit other family-friendly franchises within the Mouse House empire. NBC and Fox are currently developing pirate-themed dramas for next season; it's not hard to imagine ABC eventually trying to move ahead with a small screen spinoff of its own massively lucrative Pirates (though producer Jerry Bruckheimer may think millions remain to be mined from the movies). More doable might be a revival of The Muppet Show, particularly if this month's feature reboot goes well. All of this, of course, requires Once to continue casting a spell on kids' parents, and not just the little ones. As long as that remains the case, the residents of Storybrooke should live happily ever after. Or at least until syndication.