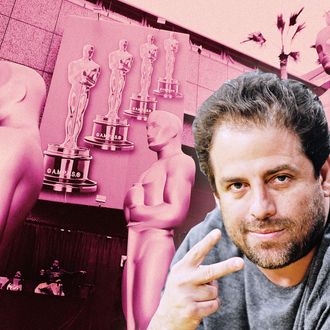 Brett Ratner.
Photo: Frazer Harrison/Getty Images, Kevork Djansezian/Getty Images/2009 Getty Images
Back in February, after a disastrous Oscar co-hosting stint, Vulture posed the question, "James Franco: Now What?" Today, though, it's the Oscars themselves that are in the spotlight. It's been a rough week for the 84th annual Academy Awards thanks to the resignation of both producer Brett Ratner and host Eddie Murphy, and when taken in tandem with the bruising that Franco and Anne Hathaway got for the last Oscarcast, it's clear that the ceremony itself has been generating more drama this year than any of the actors contending to take home a little gold man.
Prior to misspeaking one too many times in public, even Ratner seemed to realize the pitfalls inherent in working on the Oscars. Back in May, long before he was tapped to produce the ceremony, Ratner told us of the gig, "You get no credit when it works, and if it bombs, then it's 'You ruined the franchise!'"
And yet, big-name actors, producers, and directors still routinely try their hands at it. Deadline reports on a rumor that super-producer Brian Grazer may come onboard to replace Ratner, and is there any doubt that with stability first and foremost on the Academy's mind, Billy Crystal will almost certainly shoot to the top of the list to replace Eddie Murphy? (He has experience in that arena.) It doesn't hurt that he has dropped plenty of hints that he'd like to host again: The job would seem near-radioactive to any other comedian but Crystal, who would ride to the Oscars' rescue as a returning hero, rather than a sloppy seconds replacement.
Sure, a choice like Crystal wouldn't gin up the same sort of "what will he do?" curiosity that characterized the Murphy pick, but at this point, the Oscars could use a safe bird-in-the-hand move after several disastrous choices to shake things up under new Academy president Tom Sherak. As Mark Harris pointed out at Grantland today, the Academy's determination to reinvent itself in the pursuit of higher ratings might not be all that necessary: While the telecast is lower-rated than it was in, say, 1999, so is everything on TV these days — and besides, the Oscars still draw better numbers than almost any non-sports event on television, as well as an enormous global audience. Instead, suggests Harris to Oscar brass, "Stop worrying so much about protecting and defending; you're not under attack … Don't go looking for someone with the common touch who'll save what you've decided is your flailing enterprise. Stop trying to get yahoos to love your show. Instead, stand up straight, square your shoulders, own your values, and hire a producer who will live up to them."
In other words: Don't get too crazy — that's what you have people like Melissa Leo and Kirk Douglas for! The bulk of the Oscarcast falls to the winners and their acceptance speeches and actually has little to do with the host past the first half-hour, so it's more important to get things right in a classy, unobtrusive way than to flail around in a desperate attempt for relevancy. We're all for out-of-the-box choices — Hugh Jackman isn't a comedian, but he proved to be perhaps the best Oscar host of recent vintage — but after so many missteps, maybe the Academy should start to put a premium on the best idea, not just the newest.