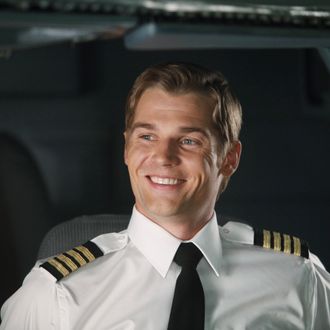 PAN AM - "Pilot" - In the premiere episode, "Pilot," Dean takes on his first assignment since his promotion, piloting the Clipper Majestic on its inaugural New York to London flight. Bridget is supposed to be his lead stewardess, until she's a no-show for the flight. Grounded purser Maggie is called in to fill in for her. On the same fateful flight, Kate adds another dimension to her work as she takes on her first assignment from U.S. intelligence. Her stress is compounded when she discovers that newly minted stewardess, Laura, her sister, is also working the same flight in the highly anticipated new series, "Pan Am," premiering SUNDAY, SEPTEMBER 25 (10:01-11:00 p.m., ET), on the ABC Television Network. (ABC/ERIC LIEBOWITZ) MIKE VOGEL
Photo: Eric Liebowitz/? 2011 American Broadcasting Companies, Inc. All rights reserved.
As might have been expected given the show's uncertain mid-season status, ABC has finally pulled the plug on its Mad Men-lite air-travel drama. "Well, we received THE call, #PanAm is only coming back for one more episode after Christmas. But up to the end, we'll give it our all," tweeted Karine Vanasse (a.k.a. the French flight attendant who sang the Marseillaise in the German embassy that one time. It was dramatic!). Here's hoping Karine and that handsome Dean can get in some solid make-outs before the missing spy-slash-ex-girlfriend comes back to ruin the happy ending. She has to come back, right? Surely Pan Am abides by the laws of Chekhov. UPDATE: Despite Vanasse's tweet, ABC insiders say that all of the show's previously-ordered 14 episodes will air, and that it's still in contention for renewal. Stay tuned.