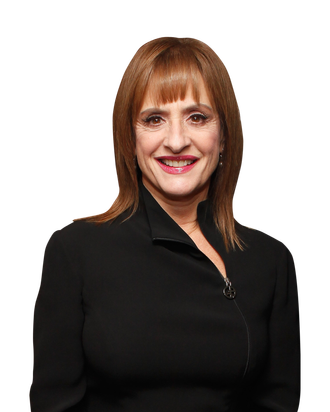 Patti LuPone.
Photo: Cindy Ord/Getty Images
It's difficult to believe, but true: Patti LuPone was only 29 and Mandy Patinkin 27 when both made their first indelible impressions on Broadway in Andrew Lloyd Webber's Evita, when it opened in 1979 (LuPone as Eva Peron, Patinkin as Che; both won their first Tonys in the show). Since then, LuPone has memorably played Mrs. Lovett in Sweeney Todd and Mama Rose in Gypsy (another Tony, there), among many other roles. And while an Evita revival starring Ricky Martin will be opening soon, the memory of LuPone and Patinkin isn't likely to fade, as the two close friends prove in their duo show, An Evening With Patti LuPone and Mandy Patinkin, open now at the Barrymore Theater. LuPone chatted with Vulture during previews about why she and Patinkin are so tight, her fear of windowless hotel rooms, and her feelings on non-theater people on Broadway.
What made now the time to bring the show to Broadway?
There really was no design — "Oh, we'd better get to the stage by 2/11." There was a theater available and presenters available … dunno. It just happened.
It's crazy to think of how young you and Mandy were when you first met on Evita …
I was scared to death from the minute we set foot in the studio with Hal Prince. The title of the play is called Evita! It's the title character. There was so much pressure on me and so much hype around it and I was scared out of my mind, primarily because I couldn't sing it; it was out of my range. But Mandy became the leader of the company — he was much calmer than I was, and I was grateful for that. When we got to L.A., I think both of us realized how scared we were, and Mandy really became my rock, my ballast, my strength, my focus. And I knew I was safe when I was onstage with Mandy.
Were you two immediately great friends after that?
We became very close friends on the show. And, you know, we just didn't work together again. I'm sure there are actors out there who work with other actors on a consistent basis — I am not one of them. There are only two I've worked with, one three times and one, who has since died, twice. And how many plays and musicals have I done? So for me to not work with Mandy after that was not surprising. But we stayed in touch. It's just that nobody put us back onstage together. We're hired hands; it's not necessarily up to us. The fact that this booker did it, and Mandy and I embraced it, was great.
You really seem to let your guard down around each other and are very goofy in a way the audience might not expect of you, being perceived as Grand People of the Theater.
Well, I think it depends on the part, d'you know what I mean? About the whole grand thing. We are, dare I say it, elder statesmen [laughs]. It's just a lot of time. I made my debut in 1972; Mandy wasn't far behind that. It's a long time to be active on the stage, and I think it's a great thing.
The idea of two big stars going out on the road together is a rare thing these days. What is it that keeps you two touring?
Um, that we get booked [laughs]. Actors are troupers, you know what I mean? When my son was quite young, a friend of ours recalls the story of him being asked, "What's your mom's name, do you know what she does?" [He said], "Yes, she packs and unpacks." And that's what we do! The road is part of a working actor's environment. And Mandy and I happen to love the road.
Have there been any more horrifying shows or places you've had to play? Any place that didn't recognize you two?
No, the road is very welcoming. Though I did have a meltdown in New Zealand once. They put us up in a casino, and if you know anything about casinos, there are no windows. I freaked out, because we were also 90 stories in the air, the only window looked down on the lobby, and I went, "I can't take it! I can't take it!" We went across town to a fantastic hotel where all the doors opened onto the water! And we went, "Okay, well, we'd rather be here anyway." You start to know hotel rooms like you don't know anything else in the world. It becomes like, your intimate companion. I can walk into any hotel room and know immediately whether I'm going to be able to stay or not just by the smell. Just the smell! Can you imagine, if the windows don't open? I just went, "Nooooo, can't do it."
I found it funny — and I'm sure it's not accidental — that directly after the set list in the program is an ad for the Evita revival.
Aaah, isn't that funny? Someone handed it to me last night and I was like, "This is an Evita playbill, right? This isn't our playbill." Well, it's our playbill. What do you do?
What kinds of feelings does the revival stir up for you?
I'll tell you what happened to me last night, sitting in my little chair, watching Mandy sing "Oh What a Circus." I was no-stal-gic for the show and wanted to be a part of that production again — to hear and see Mandy onstage. Hal's production was really so innovative and I remember when I was singing "Rainbow High" onstage one night, going in my head, Holy Toledo. This is un-believable. I'll never be in another production like this. The lights coming up out of the floor, shinbusters, which are balletic lights … and last night, I was nostalgic for the experience, and I can't say I usually get nostalgic for the experience because it was a rough one for me. I would not go see a production of Evita if it was a carbon copy of Hal's production. But I am anxious to see this one. Mandy and I will definitely go see this production.
What do you think about Ricky Martin as Che?
You know, I'll tell you what I think in general about people who want to make their Broadway debut that are not trained stage actors. Don't they know, Broadway ain't for sissies? It is a tough gig. You are responsible, physically, mentally, emotionally, for eight shows a week, at the top of your game. It's not easy.
Art isn't easy, as Mr. Sondheim would say …
Right. I was thinking of Brecht, "That's not nice — that's art. And art isn't nice." [Laughs.]
I like your Brecht accent to go with that.
Oh God, I was imitating Raul Julia. But you know what I mean? And then it becomes disappointing to the audience member, and I am an audience member, that the film actor or the rock star or whatever coming to Broadway doesn't fulfill his contract and has a limited run. You know what? If you're going to put your heels down on Broadway, then dig in. Honor it. Nobody's allowed to sign for three months — we gotta sign for a year! So don't insult us by signing for twelve weeks. I'm always asked for a year. "But how come …? Never mind, I'll sign for a year." I know they can't possibly be aware of how difficult it is. It's a monastic life. 
Filled with scary casino hotel rooms.
Exactly!