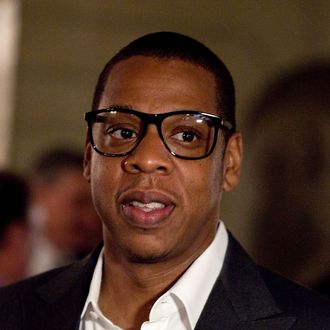 (Photo by Ben Hider/Getty Images)
Photo: Ben Hider/2011 Ben Hider
Turns out that Jay was the matchmaker between the Roots and Radiohead, because some fumbling lawyers couldn't close the deal. (Questlove: "Lawyers have destroyed hip hop.") For your Rad Things That Only Hova Can Do files, from an interview with SPIN:
This is when we were releasing Game Theory, back in 2006. Lawyers were holding up the record because of the "You and Whose Army" sample. Jay-Z was still president of the label then. I was like, "Can you get me on the phone with those guys in five minutes?" He was like, "Yeah." I said, "Do you know those guys?" He said, "No." I was confused. So I asked, "Well, how are you going to get through to those guys?" He said, "Watch." Sure enough, in five minutes I was jogging on the treadmill talking to the Radiohead guys. Lawyers can't make it work, but Jay-Z can.
Also of note: Questlove says that Jay-Z could have gotten you tickets to the Michael Jackson funeral, had you asked. That doesn't really pertain to lawyer-ing, but it's a decent skill all the same.