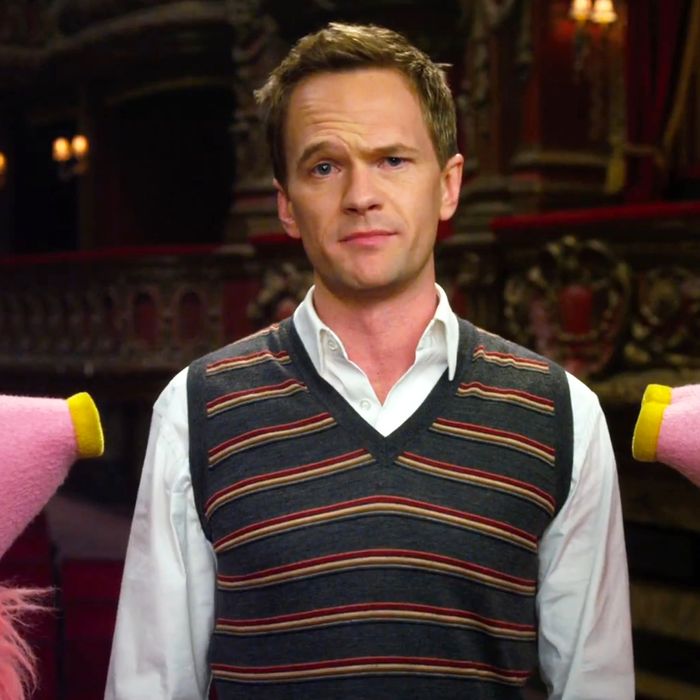 Neil Patrick Harris.
Photo: Disney Pictures
The big-screen revival of The Muppets did pretty well this past weekend, both at the box office (where it survived a brutal same-day pileup of family films) and with the critics (where its 98 percent fresh rating on Rotten Tomatoes places it above even The Artist and The Descendants). And though those are usually the only two metrics that matter with a movie, when you're evaluating a Muppet movie, there's a third set of criteria you have to judge, too: How were the celebrity cameos? Fortunately, Vulture is here to help, and we've taken the liberty of ranking the famous walk-on roles in The Muppets from "best-used" to "biggest missed opportunity."
Dave Grohl: The Foo Fighters front man is no stranger to fill-in drumming (he recently subbed for an ailing member of Cage the Elephant), and in The Muppets, Grohl played the stand-in to drumming maniac Animal in the movie's bizarro version of our heroes, "The Moopets." It's a brief cameo that works on several levels, and it's hilarious to see a super-eager Grohl towering over his Moopet bandmates after they finish their gig. Too bad it means that we'll never get Courtney Love as a Janice stand-in for the sequel!

Jim Parsons: Jason Segel says that he envisioned his Muppet pal Walter as the felt version of Michael Cera, but when it came time for the movie's dreamy musical number "Man or Muppet," it was Big Bang Theory star Parsons who played "Human Walter." And we're okay with that.
Jack Black: Most appealing use of Jack Black in years? Could be! At least something good came out of Gulliver's Travels, last year's Black boondoggle (which also co-starred Segel).
Feist, Mickey Rooney: An appropriately random pair of star cameos got things started on the movie's opening tune, "Life's a Happy Song." Between this and her appearance in A Colbert Christmas, who knew Feist was such a musical-comedy secret weapon?
Alan Arkin: A fun cameo, but when you've got a comic grump on your hands, you really ought to pair him with Miss Piggy.
Zach Galifianakis: We assumed that the presence of Galifianakis as "Hobo Joe" (among the most sizable of the movie's cameos) would mean that a quid pro quo situation had been worked out that would allow the presence of Beaker on a very awkward episode of "Between Two Ferns." We're still waiting.
Whoopi Goldberg, Selena Gomez, Rico Rodriguez: If you've got to tout some members of the Disney/ABC family, better to wheel in three at once, give them all a single line, and then push them offstage. We were a little concerned with Rodriguez's wardrobe choices, though — with his glasses, black vest, and plunging dog tag necklace, he was just a Kangol hat away from looking like Samuel L. Jackson.
Kristen Schaal: Hi, Kristen! Bye, Kristen!
Donald Glover, Ken Jeong: It was nice to see the Muppet world recognize the similarly self-referential Community, but we wouldn't have minded a little bit more of Glover's underling to Rashida Jones. (We were fine, however, with the very brief appearance of Jeong as the host of bottom-scraping network show Punch Teacher.)
John Krasinski, Neil Patrick Harris, James Carville: Gone so fast! Can we at least mark them down as potential hosts if The Muppet Show get its revival next?
Sarah Silverman: No one could top Steve Martin's insolent waiter from The Muppet Movie, but why bother casting Silverman as a one-line restaurant host without allowing her the chance to mix it up with the Muppets or snark on the wide-eyed Amy Adams?
Emily Blunt: Oh, The Muppets, how you played with our hearts! Admit it: When you saw Emily Blunt pop up as the assistant to French Vogue editor Miss Piggy, you assumed that she would be reprising her character from The Devil Wears Prada. (Yay, she finally got to go to Paris!) Alas, the movie didn't take the joke any further than Blunt's casting, and she wasn't gifted with any funny lines or really much of anything to play. They couldn't have had Miss Piggy coolly breeze in and fling her coat on Blunt's desk, at least?